Since our founding in 1912, we have spent over a century helping to resolve issues around the globe and bring about a brighter tomorrow.
Built tough
Leading in diesel technology
High Performance
Best in class offering plenty of power and torque
Low maintenance
Low fuel and oil consumption and easy service and maintenance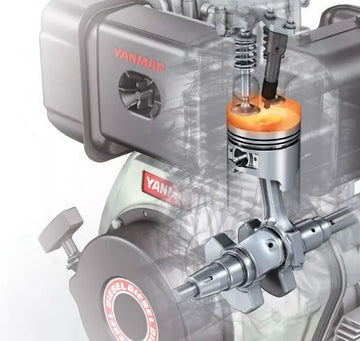 Key Features
The legendary L-Series engine continues to reign
Since 1959, Yanmar has been producing a wide range of compact air-cooled diesel engines with total production exceeding 1.5million engines. Today, the L Series air-cooled diesel engines are powering leading-edge mobile and stationary off-highway equipment around the world.
Exceeding power and environmental expectations
Designed with Yanmar's proprietary direct injection technology, maximum combustion efficiency is realised through the ideal match between the combustion chamber and injection system. This means a powerful, yet environmentally friendly engine.
Easy installation and low fuel consumption
Keeping with the traditional compact design, the L Series engines are simple to install, particularly in cramped or hard to access spaces, without the need to sacrifice power and performance. The direct injection technology allows vastly improved fuel efficiency, which means lower running costs for you in the world of rising fuel prices.
Quick and easy starting
A special auto-return decompressor and Yanmar's very own efficient combustion system breezes through starting up each and every time. An electric starting system is available as an option to get you up and running in just a push of a button.
Peerless diesel range
The Peerless guarantee.
When you buy Peerless, you're getting more than just a compressor. You become a part of a 60 year legacy spanning across Australia.