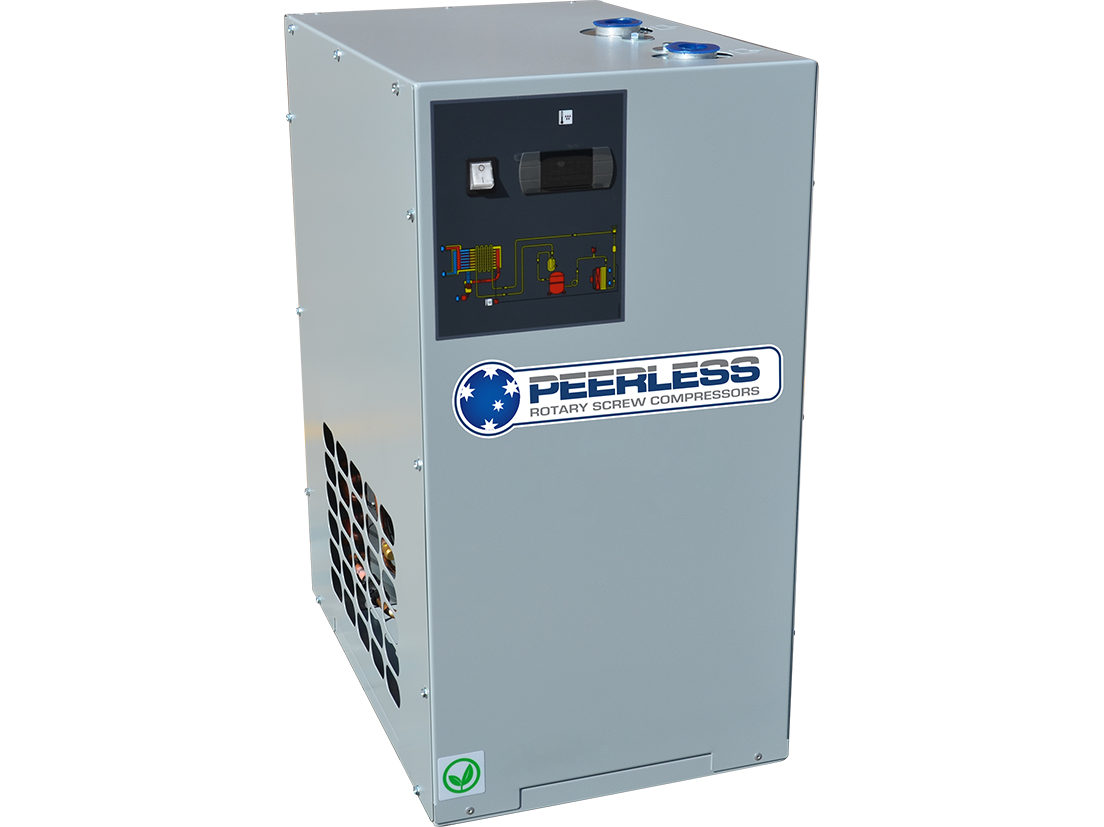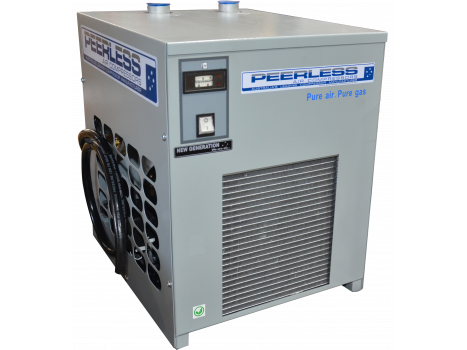 Refrigeration Cycle Air Dryer: 300-14000LPM
Protecting your pneumatic equipment - We have a range of refrigeration dryers to suit your needs. Eliminate your moisture issues with Peerless.
Dealer price
Retail
Retail
Tax included.
Protecting your pneumatic equipment.

Dry Air.
Full Feature fitted with a refrigeration air dryer to remove any moisture.

Intelligent Control Panel.
Function at your fingertips. Fully automated touchscreen control panel.

Warranty.
Warranty - 1 year pump and motor warranty - Industrial warranty not domestic
Product description
Technical Specifications
Spare parts
Refrigeration dryers are a must for zero water equipment. As an air compressors pump compresses air, there is an element of heat that the air passes through. Along with this its drawing in all the moisture that's in the surrounding environment too. Once the air is compressed, it sits in the air receiver to then cool down. This is where condensate happens within the air receiver.
For example, you get your favourite canned drink from the fridge and place it on the table. The outside of the can then has water beads appearing. This is what is happening within your tank and airlines.
The best and most effective solution to prevent this happening is to employ an Air Dryer in your set up. The refrigeration air dryer cools the incoming compressed air exchanger where the outgoing air cools the incoming air. The intake air then enters an air-to-refrigerant heat exchanger where the air is cooled to 3.3 degrees celsious by the liquid refrigerant. The process causes the water vapours in the air to condense into liquid water which is then removed by the electronic auto drain fitted.
Features:

High efficiency condenser & evaporator

Low dew point

High quality electronic auto drain

Low in maintenance

Great Reliability
One of the contributing factors to air compressor failures is heat!
Heat creates the running temperature of your air compressor to increase the oil carry over which leads into low oil levels which then can cause major pump failures and costly down time.
By maintaining your air compressor and air system will prevent a lot of future down times and costly repairs or equipment replacement. Check your air compressor oil levels, make sure there is enough cool air flow around your air compressor and no direct sun light on the air compressor system.
Installation tips:

Always install your air compressor system in a safe, cool, dry and clean area with lots of air flow
Keep system clear of rain, wind, wet/ humid and dusty areas
Do not install in an area with bad ventilation
Make sure to mount your system at least a metre away from the wall, this will also make maintenance easier!
Compressed air systems require filtration - see our filtration section for more information
KEEP IN MIND
When using a dryer with a Piston Air Compressor we recommend increase the air output by 2.5x as the air produced is a lot warmer than that of a Rotary Screw or Oil-Less unit. Filtration is required with refrigeration air dryers. A "PRE" filter is required for all dryers and we strongly recommend an oil / air separator for piston compressors
| Code | Compressor (W) | Air in/out thread | Piston (LPM) | Screw (LPM) | Piston (CFM) | Screw (CFM) | Dimensions (mm) | Weight (kg) |
| --- | --- | --- | --- | --- | --- | --- | --- | --- |
| WB7.5D | 350 | 3/4"BSP | 400 | 1000 | 14.2 | 35.3 | 352x430x445 | 30 |
| WB15D | 453 | 3/4"BSP | 880 | 2200 | 31 | 77.75 | 550x370x704 | 34 |
| WB30D | 843 | 1"BSP | 1600 | 4000 | 56.5 | 141.3 | 520x500x809 | 55 |
| WB50D | 1170 | 1.1/2"BSP | - | 6600 | - | 233.2 | 520x500x809 | 60 |
Technical Data
Max inlet
temp
Working
ambient temp
Dew point
Working
pressure
Coolant
Plug
60°C
45°C
3°C-10°C
Min. 5 Bar
Max. 13 Bar
R410A
10A
 Reliable Protection
With up to 5 years warranty for eligible products.
 Proudly Australian
Manufactured and tested in Bendigo, Victoria.
 Unmatched quality
Compressors that are built to last with our expertise.
 Dedicated support
Easy access to our team of technical support experts.