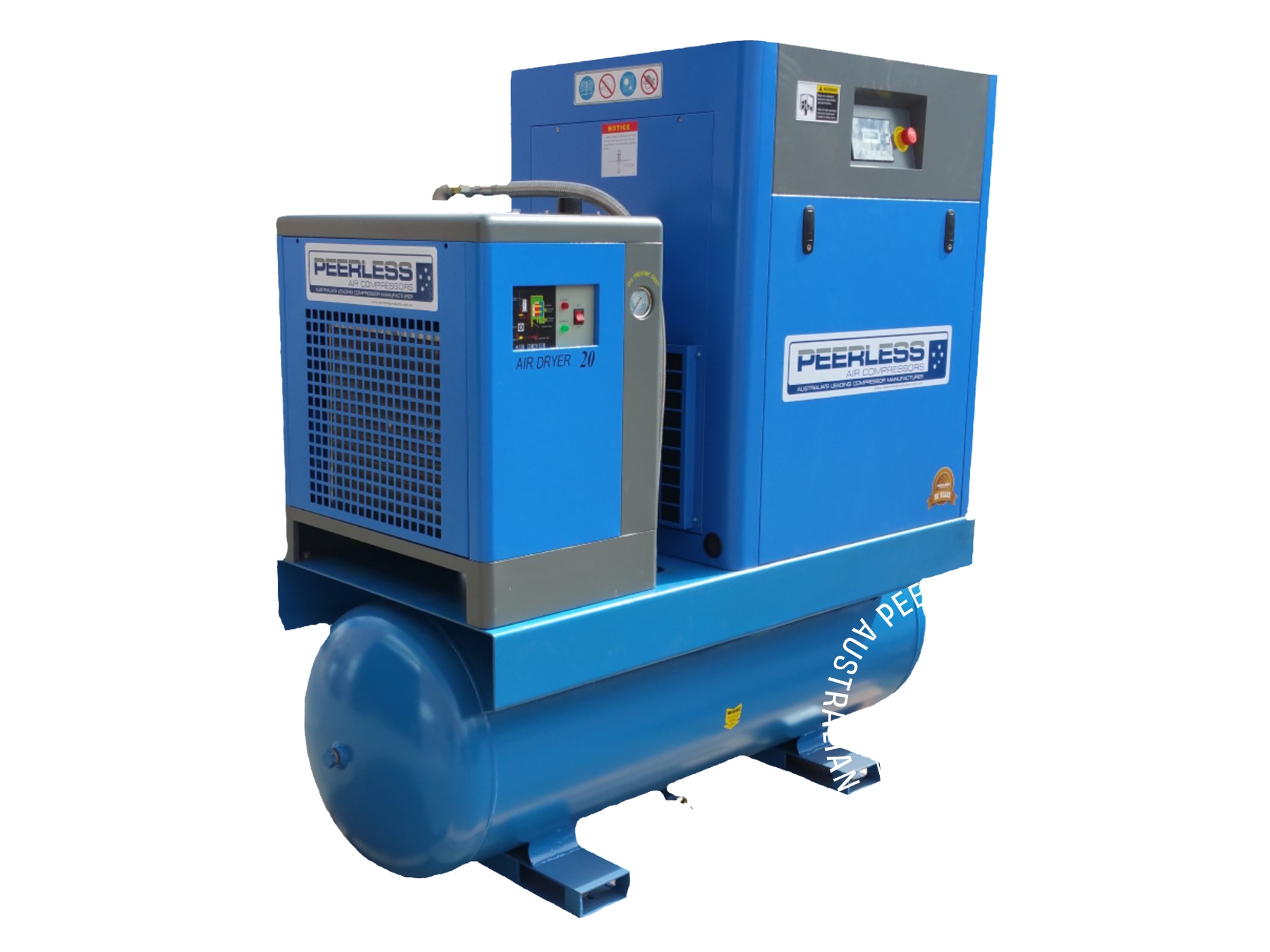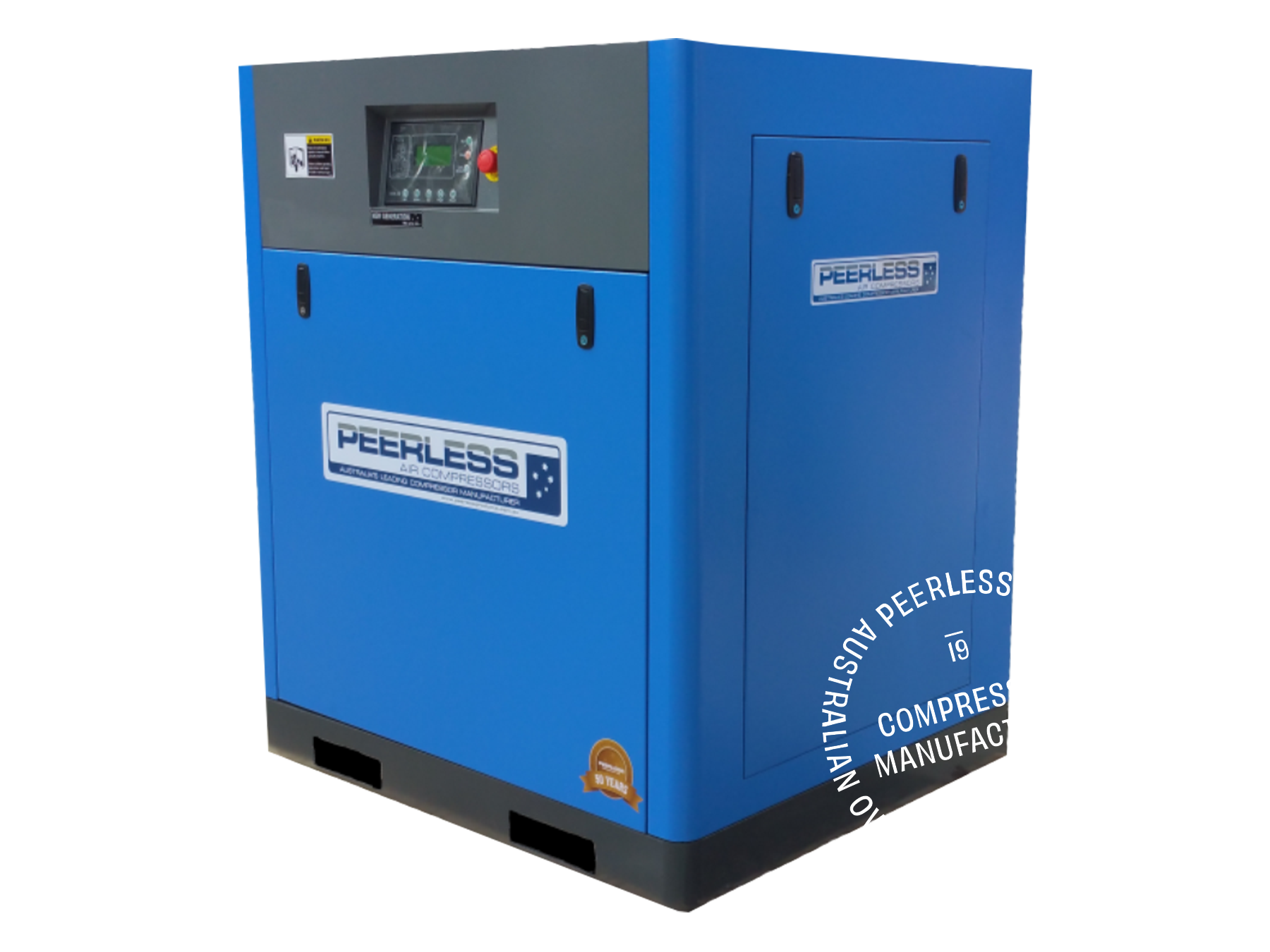 HQ20 Rotary Screw Air Compressor with Fixed Speed: Belt Drive, 20HP, 2200-2400LPM
Fixed speed screw Compressor - 2400L/pm @ 116PSI - great workshop screw compressor. 8 Bar / 116PSI max operation 10 Bar / 175PSI, high pressure!. Get as a base or with screw, dryer and tank as one. Truck tyre inflation with ease
Dealer price
Retail
Retail
Tax included.
Power at a glance.
Free air delivery

Litres per minute of air

2400LPM @ 116PSI

Motor

20HP 3 Phase

Warranty

Overall

1 Year / +1 Year parts

Pressure

Pounds per square inch

Max 145 PSI
See all the specs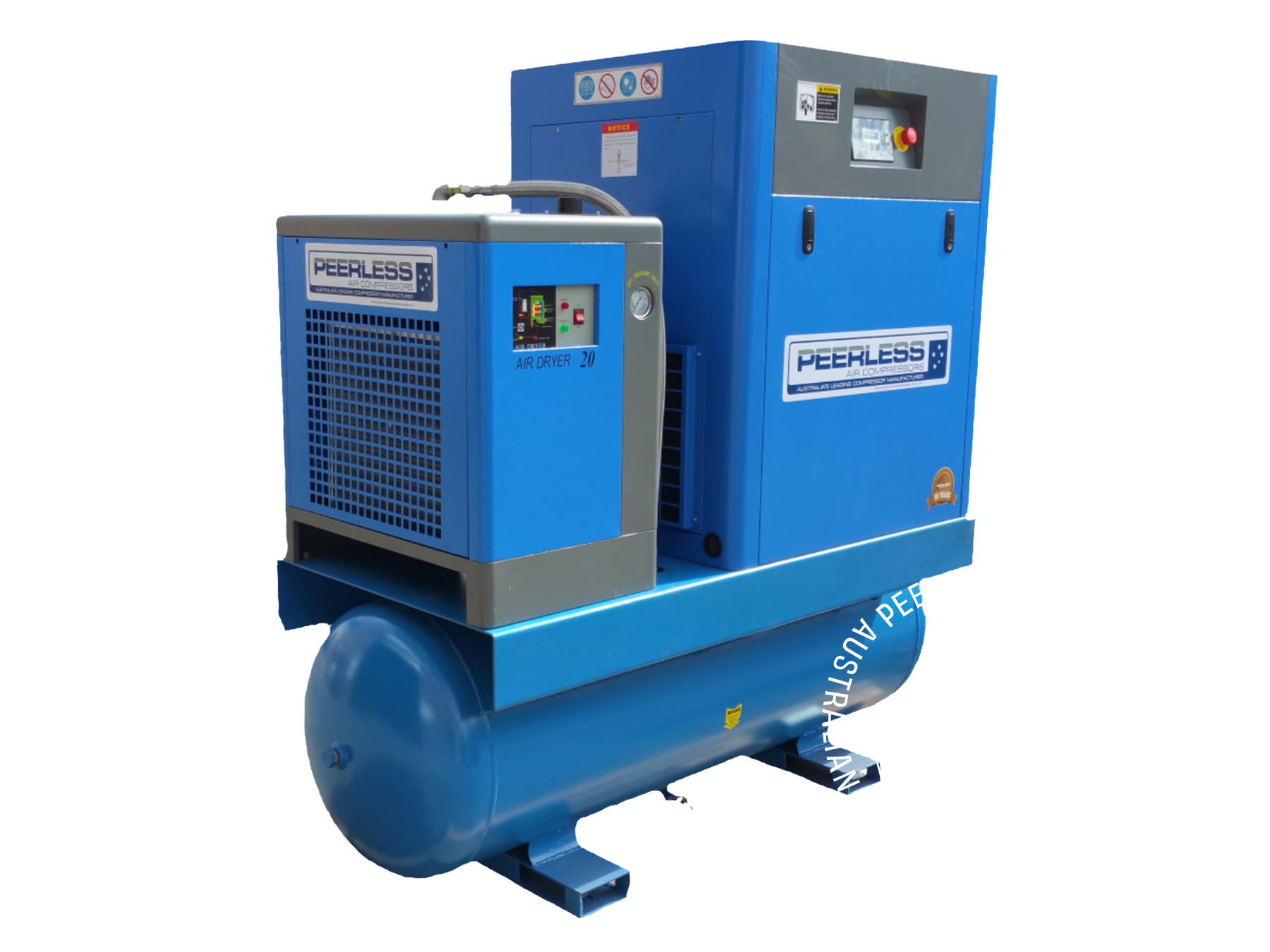 Making your business energy efficient

Seal of approval.
Australian GEMS approved three phase motor.

Warranty.
Full 1 Year industrial warranty with an additional 1 Year parts.

Piece of mind.
Full range of service kits and spare parts available. Guaranteed back up and support.

Dry Air.
Full Feature fitted with a refrigeration air dryer to remove any moisture.

Intelligent Control Panel.
Function at your fingertips. Fully automated touchscreen control panel.

Super Quiet Design.
Operating noise of only 65dBA (+/- 2).
Product description
Technical Specifications
Spare parts
Peerless Products are proud to produce its own brand in High Quality Rotary Screw Compressors (HQ-Air). We have always been involved with screw compressors but now have designed our own to suit the demands of the Australian market.

With the Peerless Rotary Screw Compressors, we test each model prior to being sent out from our factory for a minimum of 4 hours. The quality assurance inspector then dates and signs the service label notifying of when the next service is required.
Services on Screw compressors are based on hourly usage. The first inspection is in 500 hours of use, this is like a new car inspection. This is to make sure that all seals, valves, filters and oil condition is all working correctly. From there the services are based on the following;
2000 Hours
4000 Hours
6000 Hours
8000 Hours and so on.
The services are also based on the environmental conditions – if it is in a fairly dirty environment, services maybe at sooner intervals.
Most sites where an air compressor is installed you may have your own maintenance team, if this is so, yes you can service your own air compressor. This does not void your warranty if serviced correctly under the manufacture guidelines.

Please note: Power supply is very important when selecting an air compressor, along with selecting the right one for the application. Please talk to your local Peerless representative.
Base Mount (No tanks)
The base mount option is a great option if you're limited on space or if you already have an air receiver. Don't forget, if you're upgrading from an older piston model, you may be able to utilise the tank.
Full Feature - Screw, dryer & tank
The Full Feature models is the ultimate space saver with the screw component and air dryer situated on top of a 200L air receiver in order to properly utilise valuable floor space.
Key things to check:

Check the positioning of your air compressor

 – no direct sunlight, efficient air flow, non-dusty environment, cool if required.

Change the oil

 - 

 

if discoloured change immediately, this is the life line of your air compressor.


Change the air intake filter

 - 

This will keep the pump working efficiently and keep the oil clean protecting your bearings or Air-end.


Check your air fittings

 – 

Air leaks create increased duty cycles making your air compressor work harder, creating heat.


Inspect your V belts

 – 

Make sure you have the right tension and no wear and tear.


Correct ventilation around the air compressor

 – 

all air compressors need air flow.


Check all your inline filters

 – 

restricted or blocked filters lower your efficiency to work by reducing your air flow – these work harder in hotter months.


Maintain your Dryer

 – 

check or re-gas your coolant make sure correct amount of air flow going through.
Peerless Products are a professional wholesaler that distribute their products through a dealer network. They provide you local expert advice and support backed by Peerless Products. We pride ourselves on aftermarket support and service partnered with our platinum dealers. This is so you have a physical "go to" for any support required. Having that local touch of a "go to" that support you and your business enables that extra bit of confidence when purchasing a Peerless branded air compressor.
Code
HP / kW
PSI / Bar
Free air delivery
LPM / CFM
Dimensions (LxWxHmm)
Weight
Amps Required
Tank Capacity (L)
HQ20/8B
20HP / 15kW
116PSI / 8 Bar
10 Bar optional
2400 / 84.8
1090x710x1100
350
35
-
HQ20/8FF
2000X800X1900
730
500
Technical Data
| Cooling method | Discharge temp (°C) | Driving type | dBa (+/-2) | Outlet thread | Electricity | Amps draw (Full load) |
| --- | --- | --- | --- | --- | --- | --- |
| Air cooled | Ambient temp +15°C | Belt drive | 70 | 1"BSP | 415V | 27 |
Dryer Specifications
Code
Model
Compressor HP
Working Pressure
LPM
m3/h
CFM
Power Plug
HQ15D
HQ15 Dryer
3/4HP
Min. 6 Bar
Max. 10 Bar
2000
120
70.6
10A
 Reliable Protection
With up to 5 years warranty for eligible products.
 Proudly Australian
Manufactured and tested in Bendigo, Victoria.
 Unmatched quality
Compressors that are built to last with our expertise.
 Dedicated support
Easy access to our team of technical support experts.