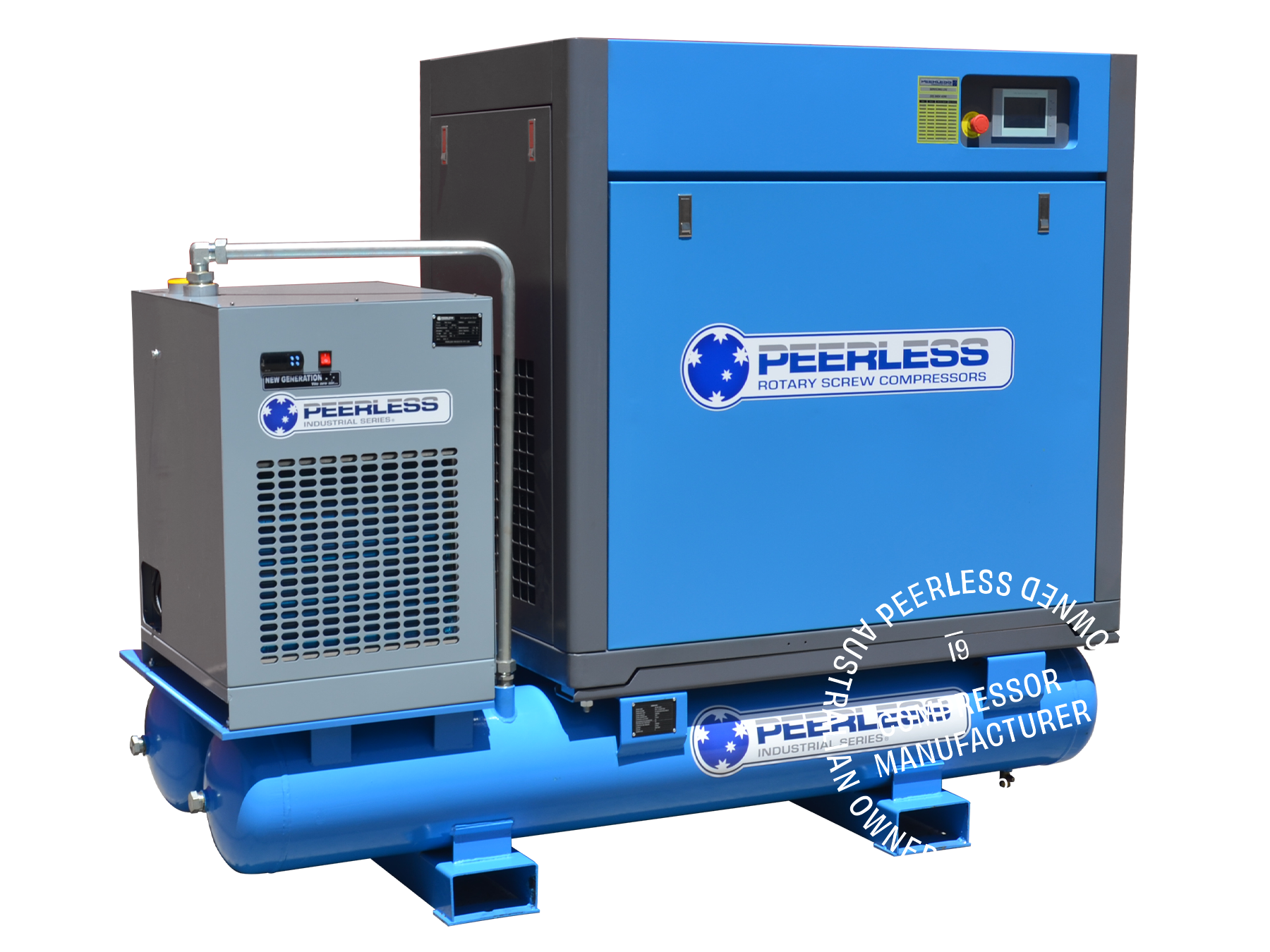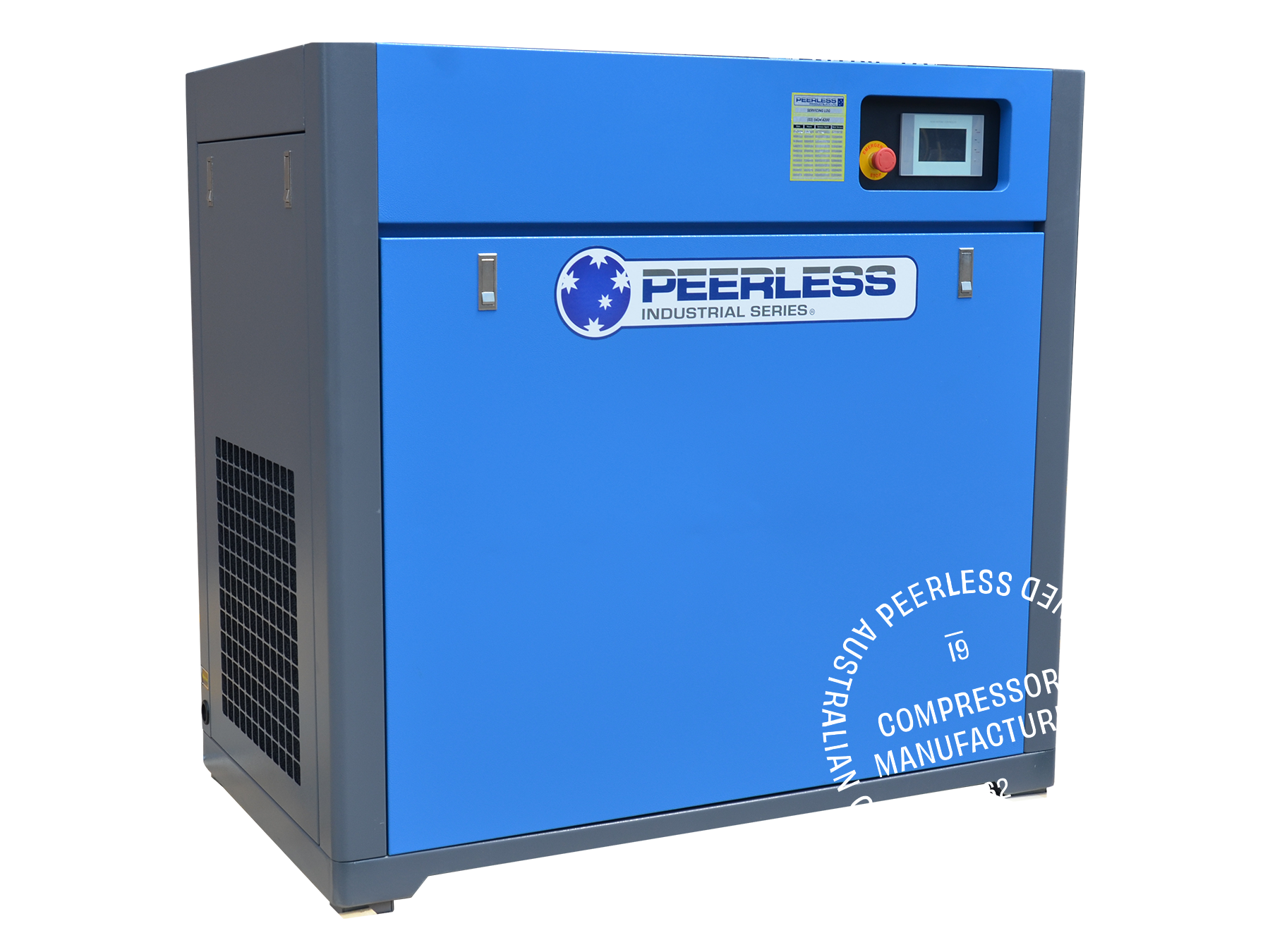 HQD30 Rotary Screw Air Compressor with Variable Speed: Direct Drive, 30HP, 2690-3396LPM
Save power & money! Variable speed technology! 120CFM / 8 Bar (3396L/min @ 116PSI). Optional high pressure! Get as a base, or with screw, dryer and tank as one.
Dealer price
$33,449.00
Retail
Retail
Tax included.
Power at a Glance
Motor

30HP 3 Phase

Free air delivery

Litres per minute of air

3396LPM @ 116PSI

Pressure

Pounds per square inch

Max 145 PSI
See all the specs
Save power & money! Variable speed technology!

Warranty.
Full 1 Year industrial warranty with an additional 1 Year parts.

Intelligent Control Panel.
Function at your fingertips. Fully automated touchscreen control panel.

Super Quiet Design.
Operating noise of only 52dBA (+/- 2).

Low Voltage
Suitable for low voltage applications.

Piece of mind.
Full range of service kits and spare parts available. Guaranteed back up and support.

Energy Efficient.
Save up to 35% in power compared to fixed speed units.
Product description
Technical Specifications
Spare parts
Peerless Products Variable Speed Rotary Screw Compressors are here to save you money! 

Stop buying air compressors that run continuously when you're not using the air. This machine will perform to your requirements and save you money at the same time.

Variable speed means, if you're using 8 bar, consuming 6 bar 800LPM and the compressor is designed to produce 3400LPM, it will slow down to the air required without any air fluctuation between load and unload pressures keeping a constant pressure (1bar = 5% energy).

With the motors high efficiency for lower HP consumption, the speed regulation of a minimum and maximum speed plays a huge part in energy savings. The energy savings from this design is practically putting money back in your pocket!

Our HQD Variable Speed Compressors will reduce your power consumption and give you a quick return on your investment within no time.
Air dryers are available to suit each model and you have the flexibility of choosing your own tank size that will best suit your individual needs in terms of capacity and overall size.
Ease of servicing also makes this unit very attractive. All main componentry have easy access panels along with our basic service guide so you or your local service agent can service without any issues.
Services on Screw compressors are based on hourly usage. The first inspection is in 500 hours of use, this is like a new car inspection. This is to make sure that all seals, valves, filters and oil condition is all working correctly. From there the services are based on the following;
2000 Hours
4000 Hours
6000 Hours
8000 Hours and so on.
The services are also based on the environmental conditions – if it is in a fairly dirty environment, services maybe at sooner intervals.
Most sites where an air compressor is installed you may have your own maintenance team, if this is so, yes you can service your own air compressor. This does not void your warranty if serviced correctly under the manufacture guidelines.
All parts and service kits are readily available through Peerless Products along with technical support if required. For help sizing up what compressor will best suit your application speak to a Peerless Specialist.
Please note: Power supply is very important when selecting an air compressor, along with selecting the right one for the application. Please talk to your local Peerless representative.
Base Mount (No tanks)
The base mount option is a great option if you're limited on space or if you already have an air receiver. Don't forget, if you're upgrading from an older piston model, you may be able to utilise the tank.
Full Feature - Screw, dryer & tank
The Full Feature models is the ultimate space saver with the screw component and air dryer situated on top of a 200L air receiver in order to properly utilise valuable floor space.

Key things to check:

Check the positioning of your air compressor

 – no direct sunlight, efficient air flow, non-dusty environment, cool if required.

Change the oil

 - 

 

if discoloured change immediately, this is the life line of your air compressor.


Change the air intake filter

 - 

This will keep the pump working efficiently and keep the oil clean protecting your bearings or Air-end.


Check your air fittings

 – 

Air leaks create increased duty cycles making your air compressor work harder, creating heat.
Peerless Products are a professional wholesaler that distribute their products through a dealer network. They provide you local expert advice and support backed by Peerless Products. We pride ourselves on aftermarket support and service partnered with our platinum dealers. This is so you have a physical "go to" for any support required. Having that local touch of a "go to" that support you and your business enables that extra bit of confidence when purchasing a Peerless branded air compressor.
Code
HP / kW
Dimensions (LxWxHmm)
Weight
Amps Required
Tank Capacity (L)
HQD30VSHP
30HP / 22kW
1350x780x1250
590
42.4
-
HQD30VSHP-FF
2100x820x1700
750
300L
Free Air Delivery
Code
PSI
Bar
LPM
M3/H
CFM
HQD30VSHP-8
116
8
3396
204
120
HQD30VSHP-FF-8
HQD30VSHP-10
145
10
3113
187
110
HQD10VSHP-FF-10
Technical Data
| Cooling method | discharge temp (°C) | Driving type | dBa (+/-2) | Outlet thread | Electricity | Amps draw (Full load) |
| --- | --- | --- | --- | --- | --- | --- |
| Air cooled | Ambient temp +15°C | Direct drive | 70 | 1.1/2"BSP | 415V | 42.4 |
Dryer Specifications
Code
Model
Compressor KW
Working Pressure
LPM
m3/h
CFM
Power Plug
WB30D
WB30 Dryer
843KW
Min. 6 Bar
Max. 13 Bar
4000
240
56.5
10A
 Reliable Protection
With up to 5 years warranty for eligible products.
 Proudly Australian
Manufactured and tested in Bendigo, Victoria.
 Unmatched quality
Compressors that are built to last with our expertise.
 Dedicated support
Easy access to our team of technical support experts.