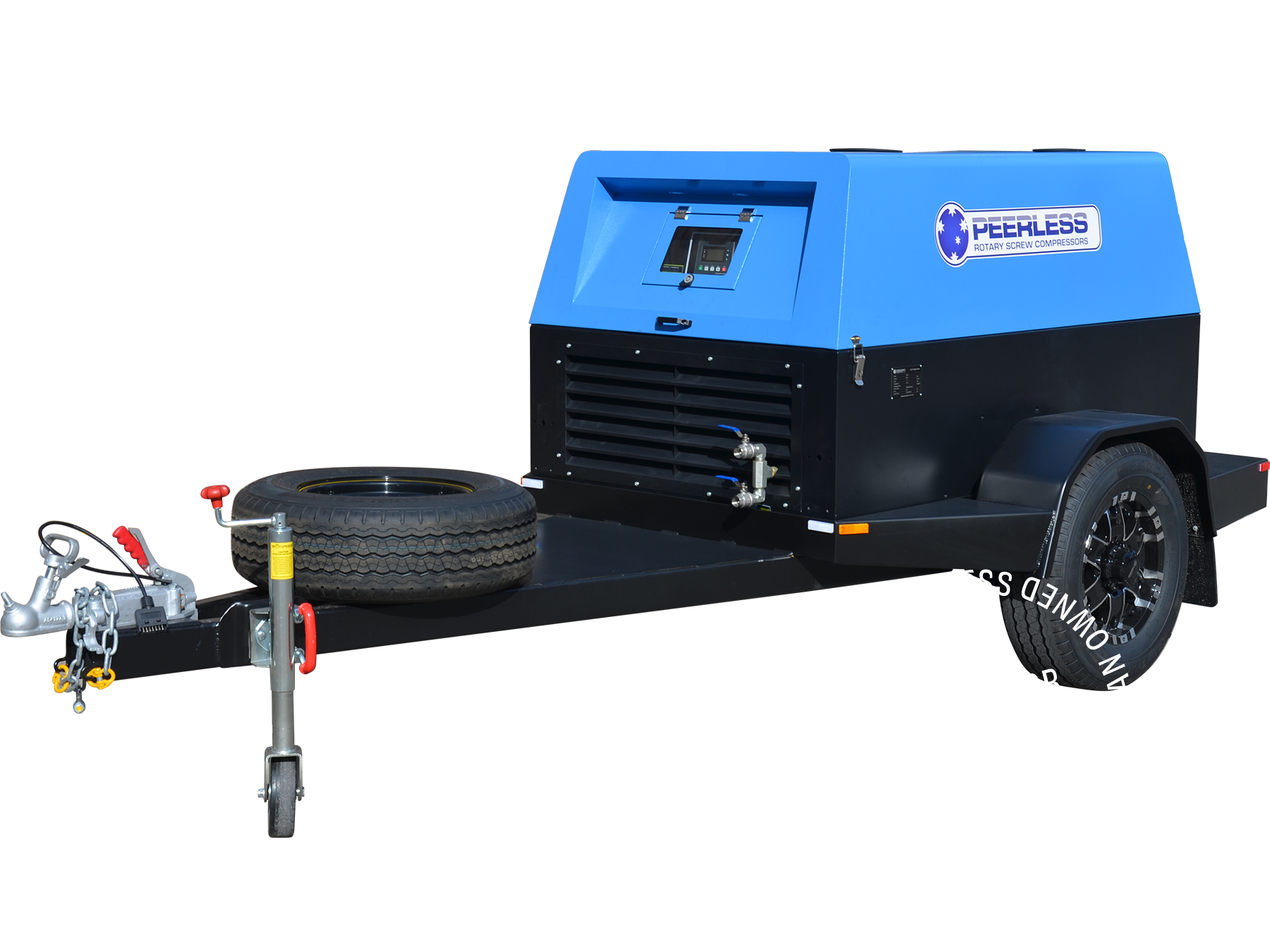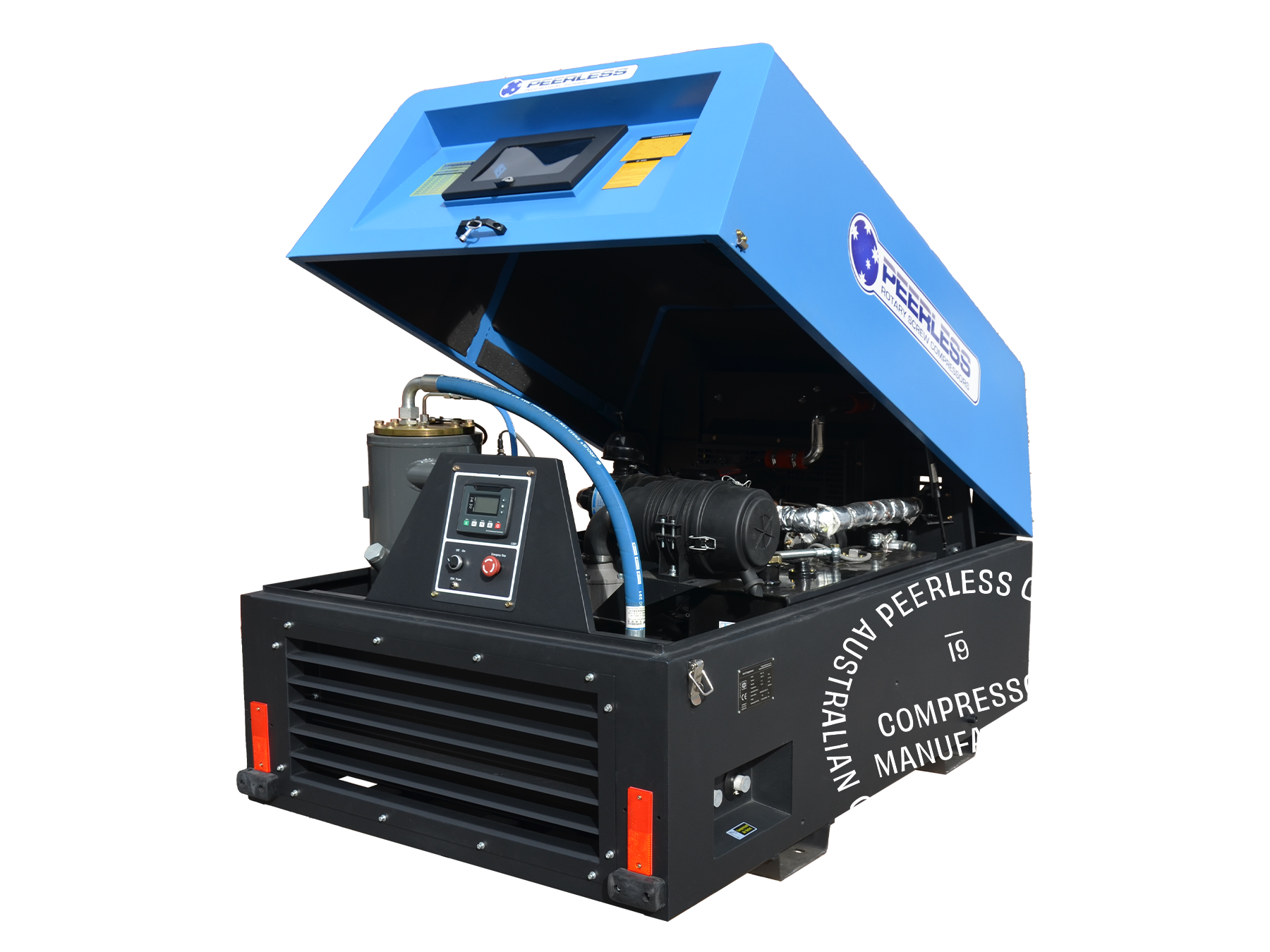 P125D Diesel Rotary Screw Air Compressor: Direct Drive, 32HP, 3538LPM at 7 Bar - for Trailers
Trailer or skid, air on demand: 125CFM @ 7 Bar max 10 Bar. The ultimate performing air compressor with great aftermarket support and service.
Dealer price
$30,950.00
Retail
Retail
Tax included.
Power at a Glance
Free air delivery

Litres per minute of air

3538LPM @ 100PSI (125CFM)

Pressure

Pounds per square inch

Max 145 PSI

Warranty

Overall

1 Year / +1 Year parts
See all the specs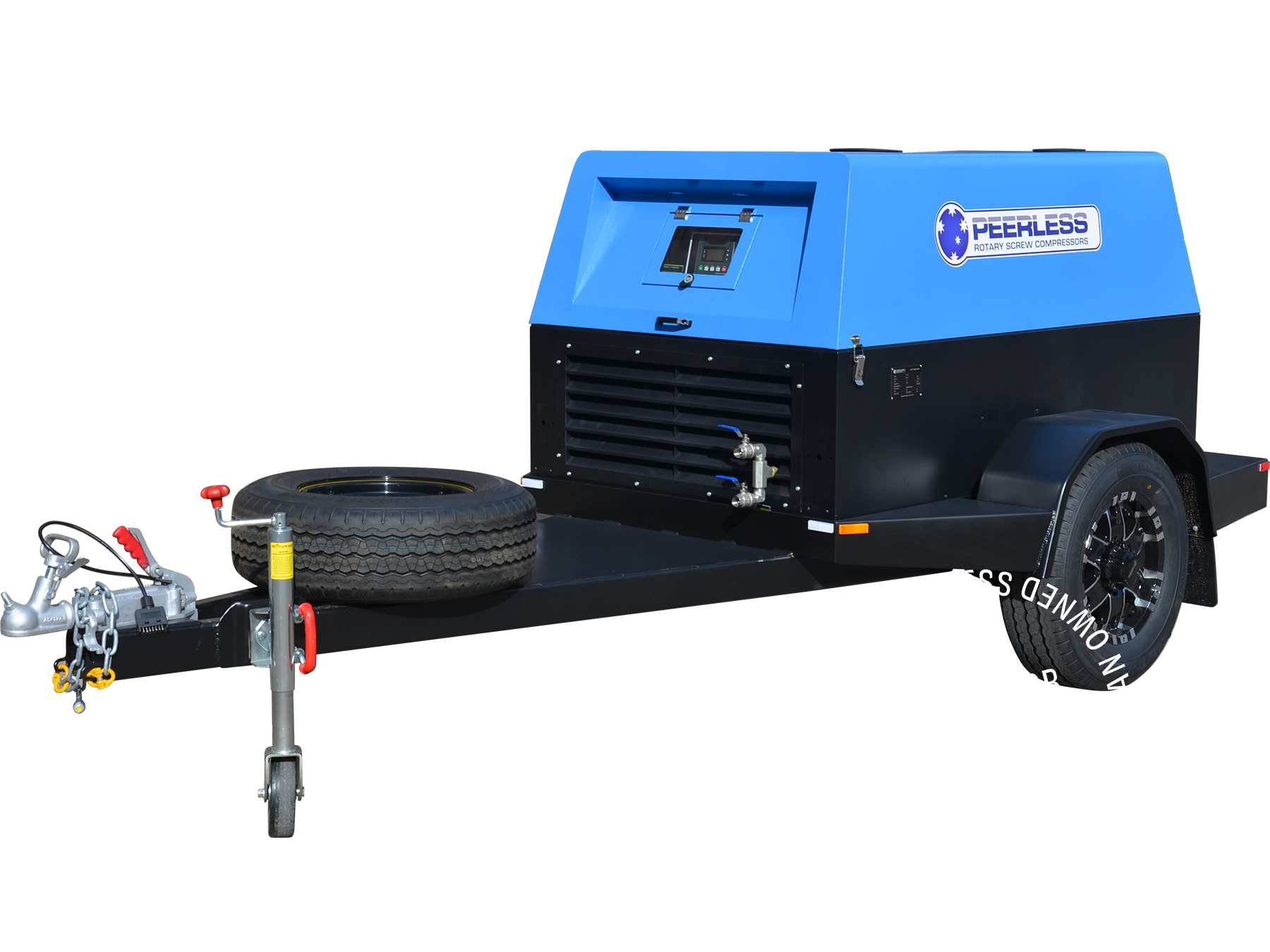 Design and developed for the Australian market

Piece of mind.
Full range of service kits and spare parts available. Guaranteed back up and support.

Power on the go.
Take your compressor wherever you go with its easy and flexible design.

Warranty.
Full 1 Year industrial warranty with an additional 1 Year parts.

Intelligent Control Panel.
Function at your fingertips. Fully automated touchscreen control panel.
Product description
Technical Specifications
Spare parts
The Peerless P125 diesel models has an impressive 24KW, 3 cylinder - direct injected diesel motor which drives a huge Peerless air end delivering 125CFM (3538 litres) of free air delivery at 100PSI (8 BAR).
A great feature of this motor is that all coolant is ran through a hydraulic system achieving a greater flow rate.

This unit is controlled through an intuitive intelligent LCD digital display that is carefully protected behind a cabinet door. This digital display allows you to see all the functionalities of what the diesel screw compressor is doing with live feedback. From the RPM of the engine, pressure range delivering, fuel consumption, service hours, run time and much more.

Just like all our other engine driven air compressors this will revv up when the air demand is required and then idle back when pressure has been reached. We have also implemented the air compressor to have an battery isolation switch which is located inside the lockable doors.
Trailer mount:
The P125D-T has been designed with twin air outlets making it easy to either to regulate one outlet for air tools and then have direct pressure for blow
downs or tyre inflation. Solid metal construction with an extended "A" frame for ease of towing and reversing. The top of the A frame has a top plate for ease of a retractable hose to be mounted along with a spare tyre.
Base / Skid: 
If the trailer isn't an option and you want to place on the back of the truck, no problem. Fork lift feet underneath or a lifting eye at the centre on the unit for easy placement. 
Peerless Products are a professional wholesaler that distribute their products through a dealer network. They provide you local expert advice and support backed by Peerless Products. We pride ourselves on aftermarket support and service partnered with our platinum dealers. This is so you have a physical "go to" for any support required. Having that local touch of a "go to" that support you and your business enables that extra bit of confidence when purchasing a Peerless branded air compressor.
Specifications
Code
HP / kW
Compressor Type
Pressure
Flow Rate
Air Outlet Thread
P125
32HP / 24kW
Oil Injected Rotary Screw
7Bar / 100PSI
3538LPM / 125CFM
2 x 3/4" BSP
P125-T
Engine Specifications
Engine
Starting
System
Charging
System
Cooling
System
Driving
Type
Bore x Stoke
Engine
Displacemnt
Peerless 3 Cyl
Electric start / 12V Electric
12 Volt
15Amp
Water
Direct Drive
85 x 90
1.53 (L)
 Reliable Protection
With up to 5 years warranty for eligible products.
 Proudly Australian
Manufactured and tested in Bendigo, Victoria.
 Unmatched quality
Compressors that are built to last with our expertise.
 Dedicated support
Easy access to our team of technical support experts.