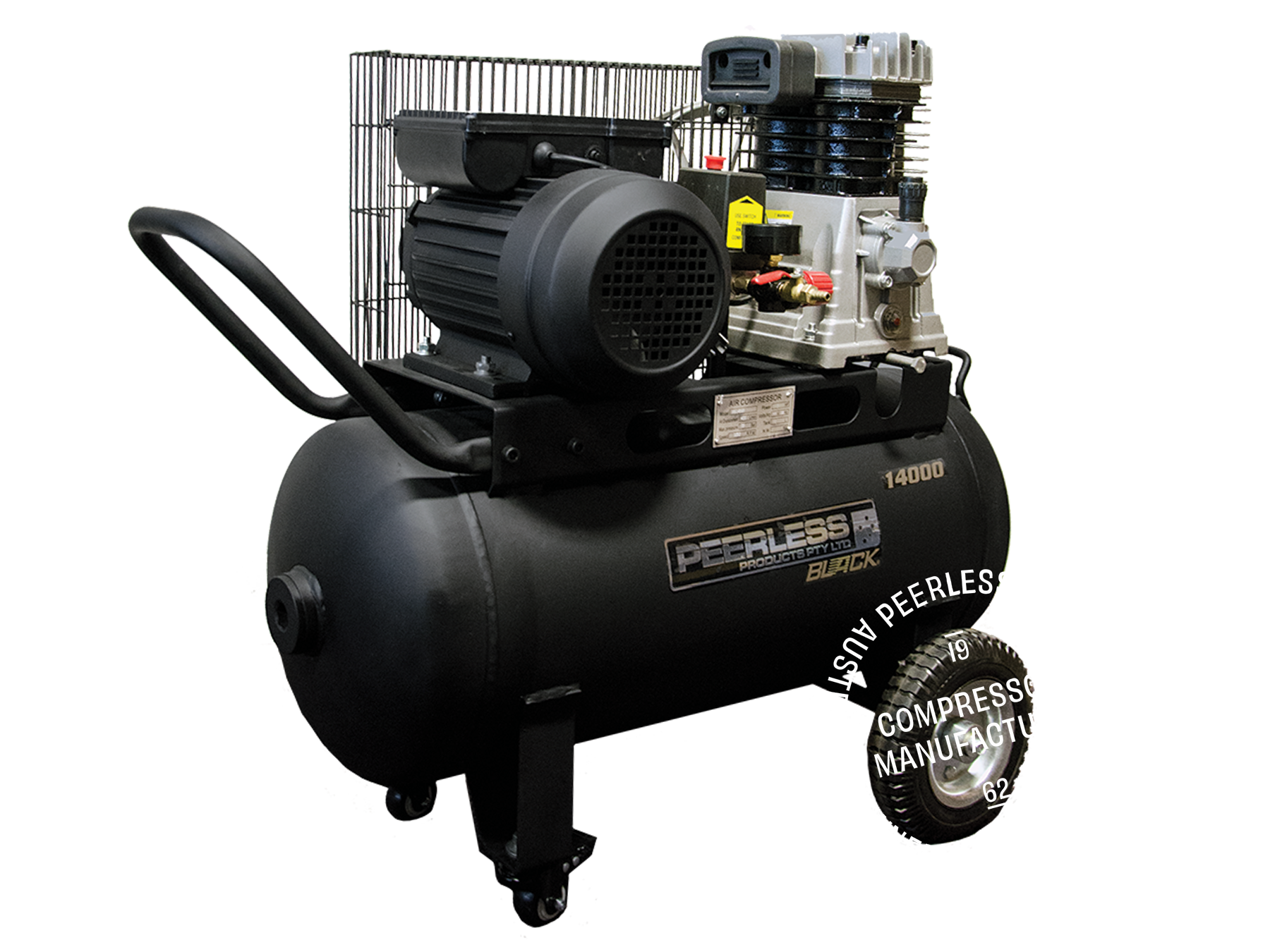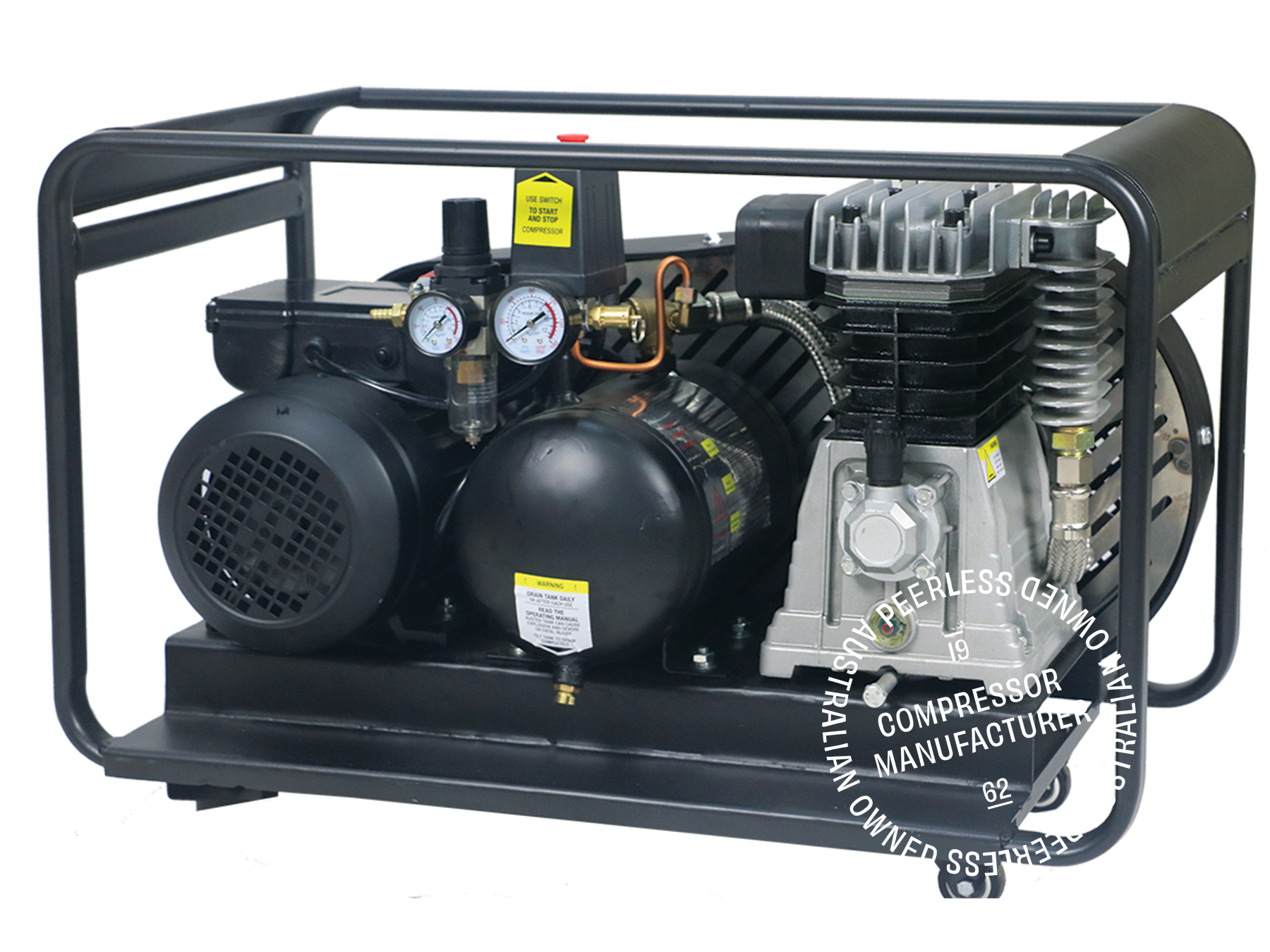 PB14000 Single Phase Air Compressor: Belt Drive, 10Amp, 2.5HP, 220LPM
Compact performance: 220L/min free air. Alloy pump on a 50L tank, price point air compressor that has performance. Impressive performance in a compact design.
Dealer price
Retail
Retail
Tax included.
Power at a Glance
Free air delivery

Litres per minute of air

220LPM @ 100PSI

Motor

Electric 2.5HP

Power supply

10 Amp Plug

Pressure

Pounds per square inch

Max 145 PSI
See all the specs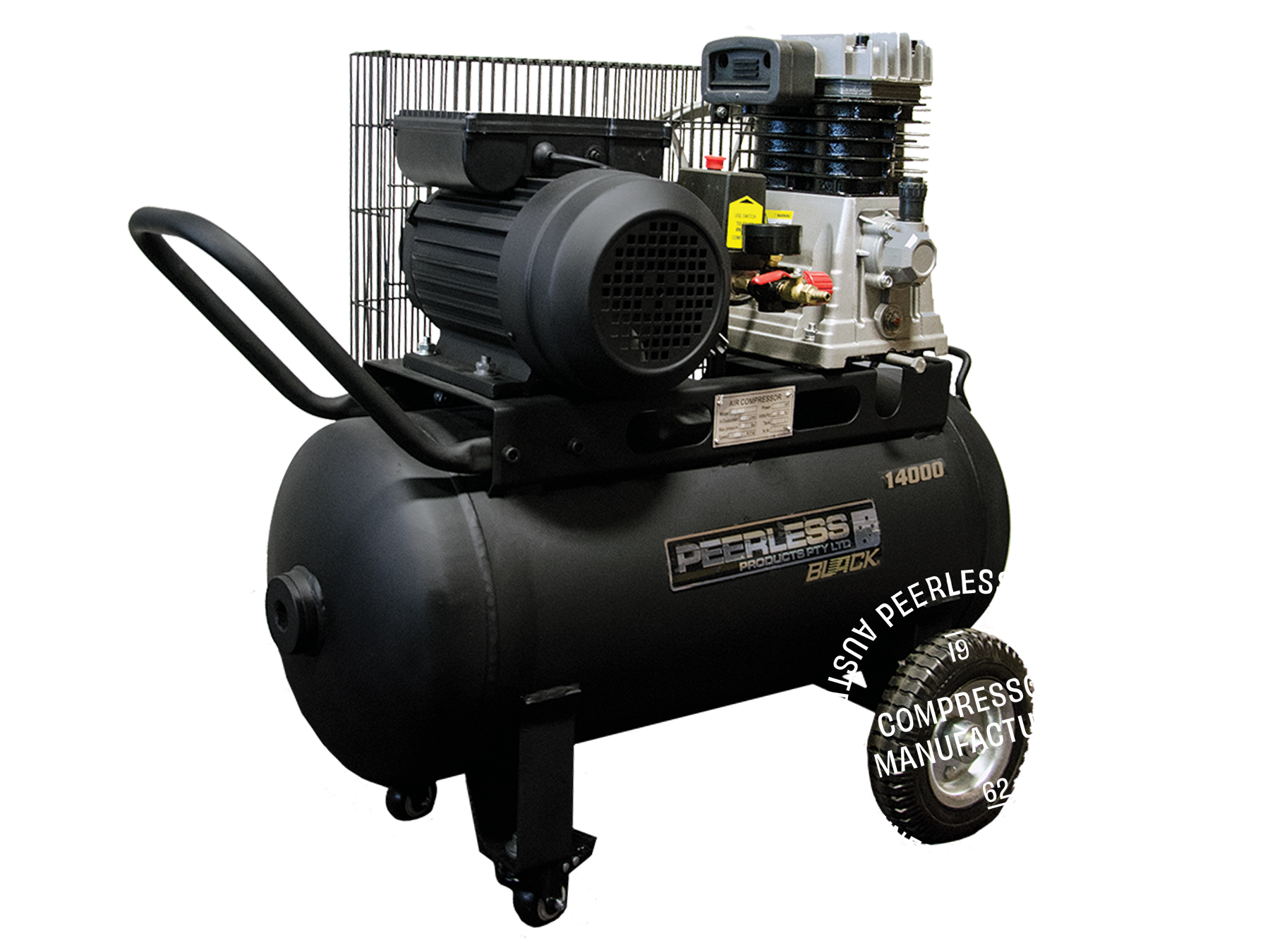 Performance without the price tag.

Power on the go.
Take your compressor wherever you go with its easy and flexible design.

Warranty.
Warranty - 1 year pump and motor warranty - Industrial warranty not domestic

Cast Iron Barrel.
Alloy pump featuring a cast iron barrel for minimal wear.
Product description
Technical Specifications
Spare parts
The Peerless Black 14000 is a great entry level belt drive air compressor, this runs super quiet and this is due to the pump only revving at a 895RPM! With all air compressors you should pay close attention to the pump RPM, if its RPM is over 1500-1800RPM you're over working your pump - would you drive your car in second gear at 100km/h?
It's the same when it comes to air compressors, overheating, atomising the oil and motor failures are just some of the failures that can occur.
This light industrial air compressor is designed for the building industry and home handyman, its unique design with caster wheels on the front and pneumatic wheels on the back makes it very easy to move from job to job.
For a light industrial air compressor it packs a lot of punch but it also has its limitations, keep in mind for high air demands you will have to step it up to a bigger air compressor like a belt drive, be sure to check your air tools for the air flow requirements but most importantly use our "Find the right air compressor" tool located on our home page to assist in making the right decision for your air needs.
Able to run;

Low pressure spray gun

Car tyre inflation gun

Stapling / fitting gun

Framing / grease gun

Chalking / riveter gun

Screw driver

1/2" Ratchet / impact gun

Air duster
Important
Please note: air compressors i.e piston type, are not designed to run continuously they must cut in and out. Direct drive models should only have up to a 40-50% duty cycle. Belt Drive hobby models are up to 60-70% and full industrial belt drive models are up to 75-85%. If the compressor runs over these duty cycles it could cause failure. Important - first check voltage on each building site as low voltage will cause the motor to fail on all compressors. It must have be better than 230 volt at peak times. Extension leads will cause voltage drop, it's better to use extra air hose.
Performance of all our belt driven air compressors are to AS4637.

For over 60 years Peerless Products has been delivering and exceeding the needs of industry. Ask us about your requirements.
Code
Model
Pump Displacement (CFM)
Free Air Delivery (LPM)
Max PSI
Motor HP
Warranty
Pump
Warranty
Motor
Tank Capacity (L)
Pump up
time to 100PSI
Dimensions (mm)
Weight (kg)
PB14000
PB14000
11 CFM
220 LPM
145
2.5
1 Year
1 Year
50L
1.20 - 1.25 Min
880Lx410Wx760H
63kg
PB14000R
Roll Cage
11 CFM
220 LPM
145
2.5
1 Year
1 Year
9L
-
865Lx395Wx545H
60kg
Technical Data
Cooling
method
Pump type
Cylinders
Pump head
tension
Oil capacity
Pump RPM
Outlet thread
Electricity
Amps draw
Air cooled
Alloy
Side by side
2
16 FT LB
22.4NM
1L
895
1/4" BSP
240V / 10A
9.3
Peerless Black Spare Part
Dealer price
Retail
Retail
Top End of Pump Alloy Side by Side
Dealer price
Retail
Retail
Dealer price
Retail
Retail
Dealer price
Retail
Retail
Internal Components of Pump Alloy Side by Side
External / Body Components of Pump Alloy Side by Side
---
Peerless Black air compressors
The Peerless Black, light industrial range, is the result of consulting with the Australian market for many years. Designed and developed specifically for the building trade and DIY home renovator.
From our slow revving oilless pumps at 1350RPM though to our slow revving alloy pump they produce some of the highest free air deliveries compared to anything else in the Australian market. Get the right air compressor that you can trust to do it right the first time!
Do it right and buy a Peerless!
See the range
 Reliable Protection
With up to 5 years warranty for eligible products.
 Proudly Australian
Manufactured and tested in Bendigo, Victoria.
 Unmatched quality
Compressors that are built to last with our expertise.
 Dedicated support
Easy access to our team of technical support experts.