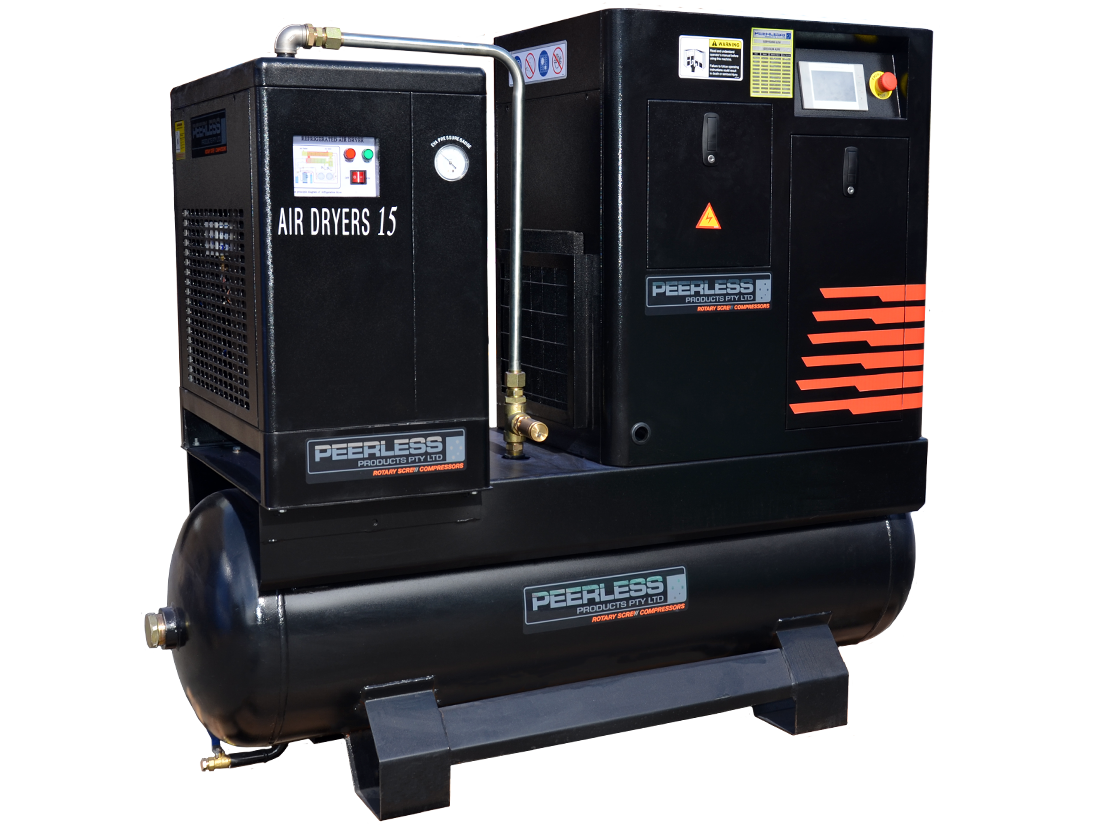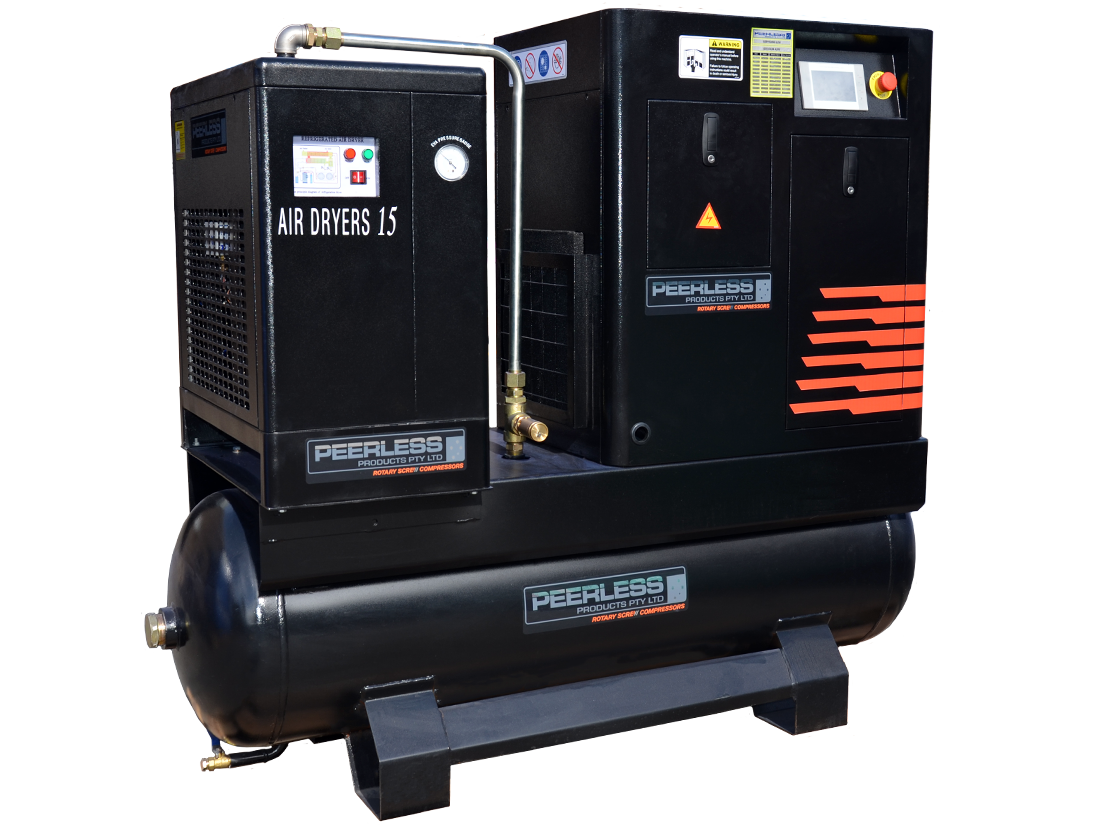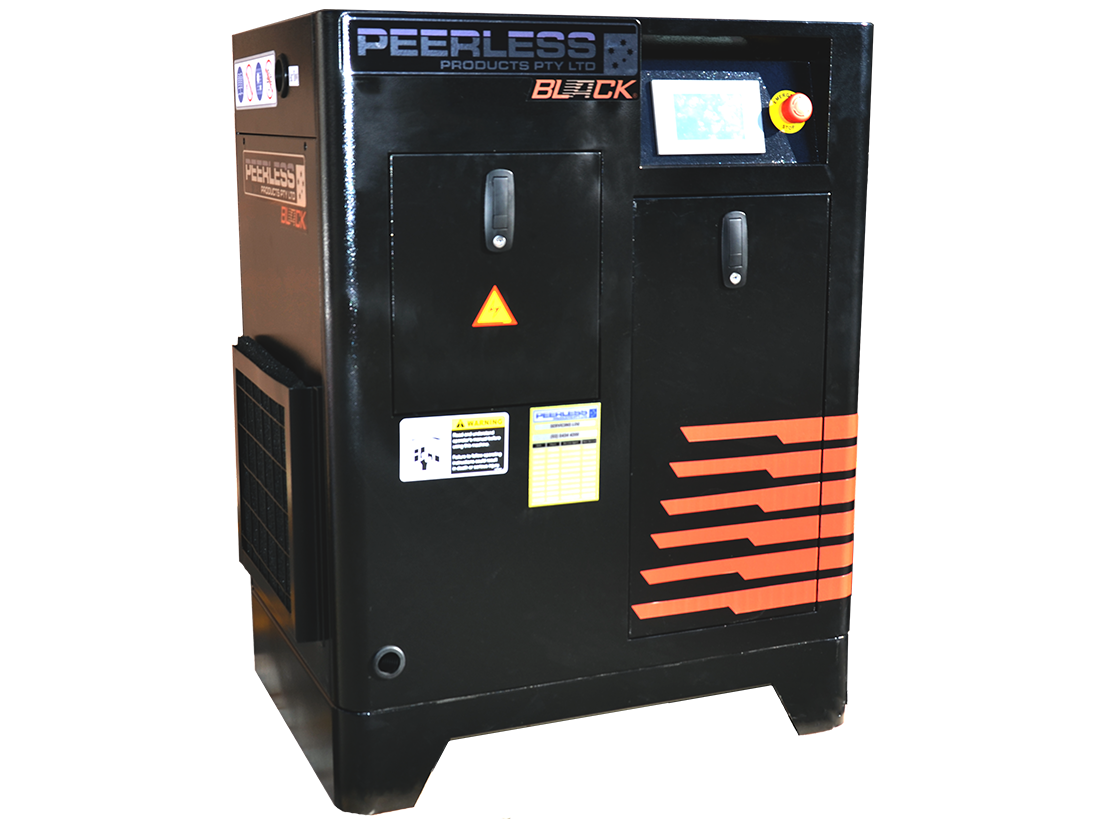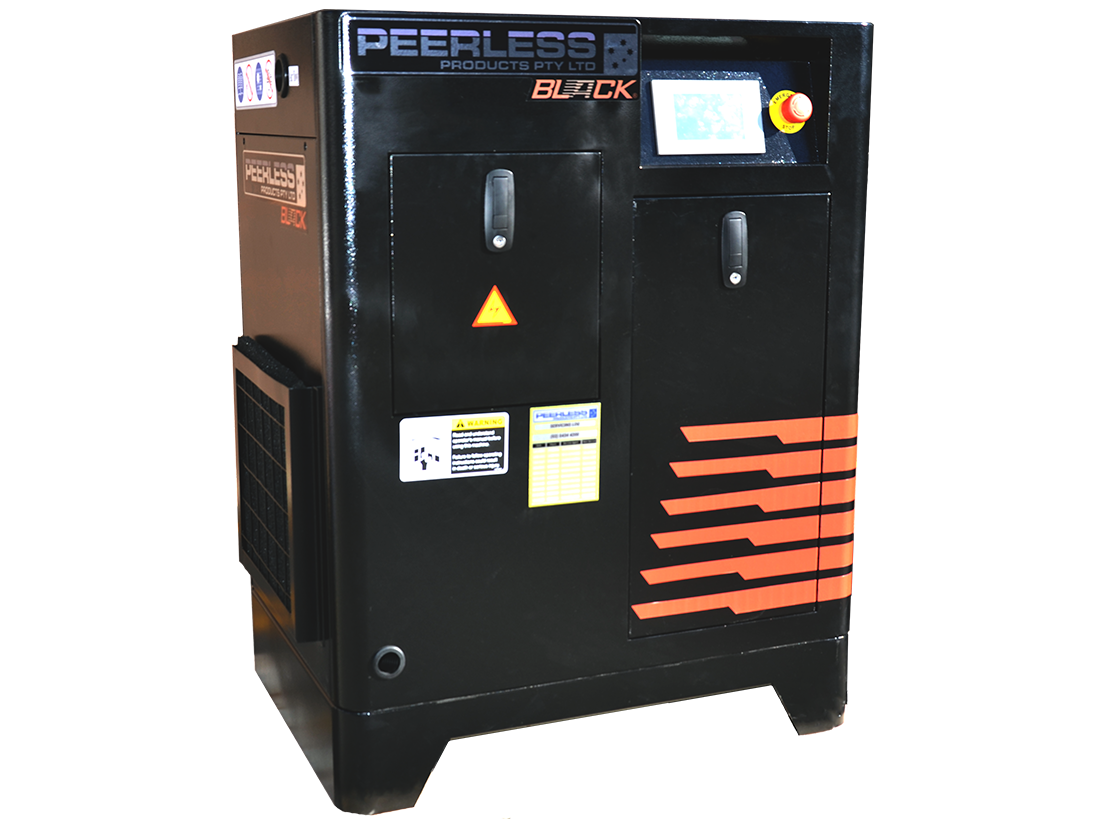 Peerless Black Screw 10/8
PBS10 Rotary Screw Air Compressor: Belt Drive, 10HP, 1150LPM at 8Bar
Dealer price
Retail
Retail
Tax included.
Product description
Technical Specifications
Spare parts
Peerless Products are proud to produce its own brand in High Quality Rotary Screw Compressors (HQ-Air). We have always been involved with screw compressors but now have designed our own to suit the demands of the Australian market.
The 10HP / 7.5kW model is a "Full Feature" model which includes the screw, dryer and tank, making it easier to install, just have your industrial electrician wire it in and you're set. This eliminates installation cost on fitting a dryer, labor times and reduces floor space!
We fit our Full feature 10HP models with a HQ15D refrigeration dryer that is capable of condensing an air flow of 2000 litres per minute. We are one of few manufacturers that do this to handle the hot conditions of Australia. This dryer is fitted with a 10A plug.
The LED color touch screen takes away the confusion on how your air compressor is operating with all functions displayed and easy use of operation.
With the Peerless Rotary Screw Compressors, we test each model prior to being sent out from our factory for a minimum of 4 hours. The quality assurance inspector then dates and signs the service label notifying of when the next service is required.
Services on Screw compressors are based on hourly usage. The first inspection is in 500 hours of use, this is like a new car inspection. This is to make sure that all seals, valves, filters and oil condition is all working correctly. From there the services are based on the following;
2000 Hours
4000 Hours
6000 Hours
8000 Hours and so on.
The services are also based on the environmental conditions – if it is in a fairly dirty environment, services maybe at sooner intervals.
Most sites where an air compressor is installed you may have your own maintenance team, if this is so, yes you can service your own air compressor. This does not void your warranty if serviced correctly under the manufacture guidelines.
Pease note: Power supply is very important when selecting an air compressor, along with selecting the right one for the application. Please talk to your local Peerless representative.
Code
HP / kW
PSI / Bar
Free air delivery
LPM / CFM
Dimensions (LxWxHmm)
Weight
Amps Required
Tank Capacity (L)
PBS10/8B
10HP / 7.5kW
116PSI / 8 Bar
10 Bar optional
1150 / 40.6
1000x800x1280
220
35
-
PBS10/8FF
1900X750X1620
470
300
Technical Data
| Cooling method | Discharge temp (°C) | Driving type | dBa (+/-2) | Outlet thread | Electricity | Amps draw (Full load) |
| --- | --- | --- | --- | --- | --- | --- |
| Air cooled | Ambient temp +15°C | Belt drive | 70 | 1"BSP | 415V | 27 |
Dryer Specifications
Code
Model
Compressor HP
Working Pressure
LPM
m3/h
CFM
Power Plug
HQ15D
HQ15 Dryer
3/4HP
Min. 6 Bar
Max. 10 Bar
2000
120
70.6
10A
 Reliable Protection
With up to 5 years warranty for eligible products.
 Proudly Australian
Manufactured and tested in Bendigo, Victoria.
 Unmatched quality
Compressors that are built to last with our expertise.
 Dedicated support
Easy access to our team of technical support experts.