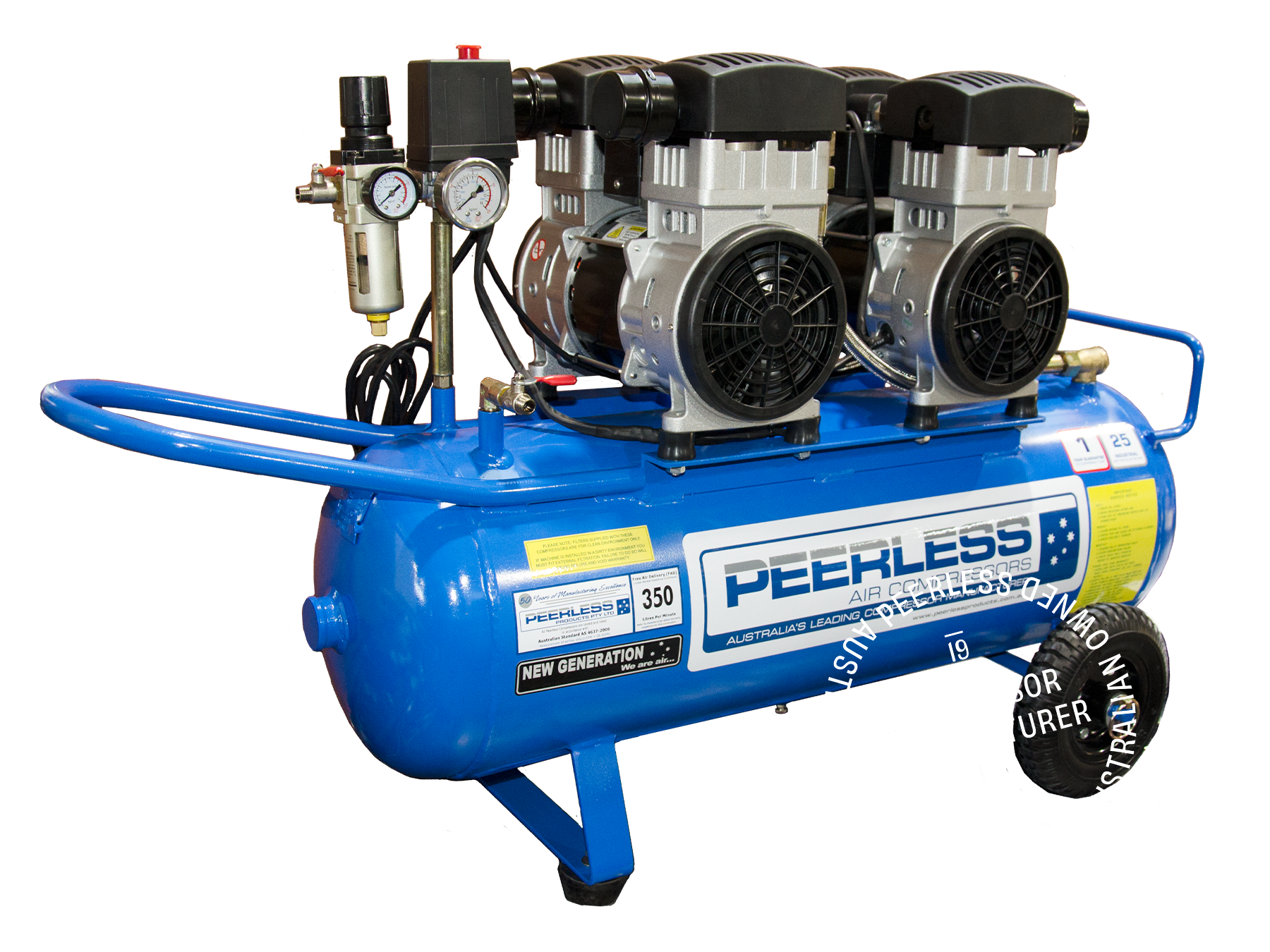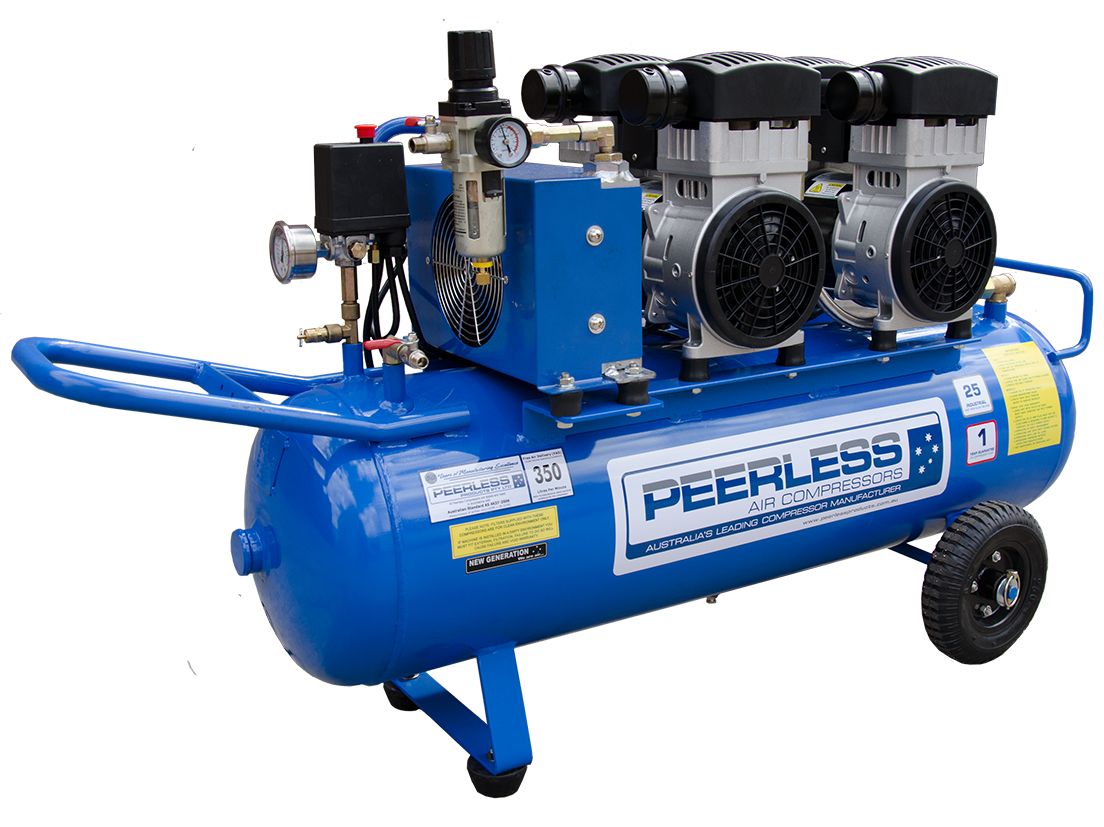 PO25 Single Phase Air Compressor: Oilless, Direct Drive, 10Amp, 15Amp, 4HP, 350LPM
Performance matters: 350L/min free air. Super quiet operation delivering impressive performance in a compact design.
Dealer price
Retail
Retail
Tax included.
Power at a Glance
Free air delivery

Litres per minute of air

350LPM @ 100PSI

Pressure

Pounds per square inch

Max 145 PSI

dBa Rating

dBa Rating

52 (+/-2)
See all the specs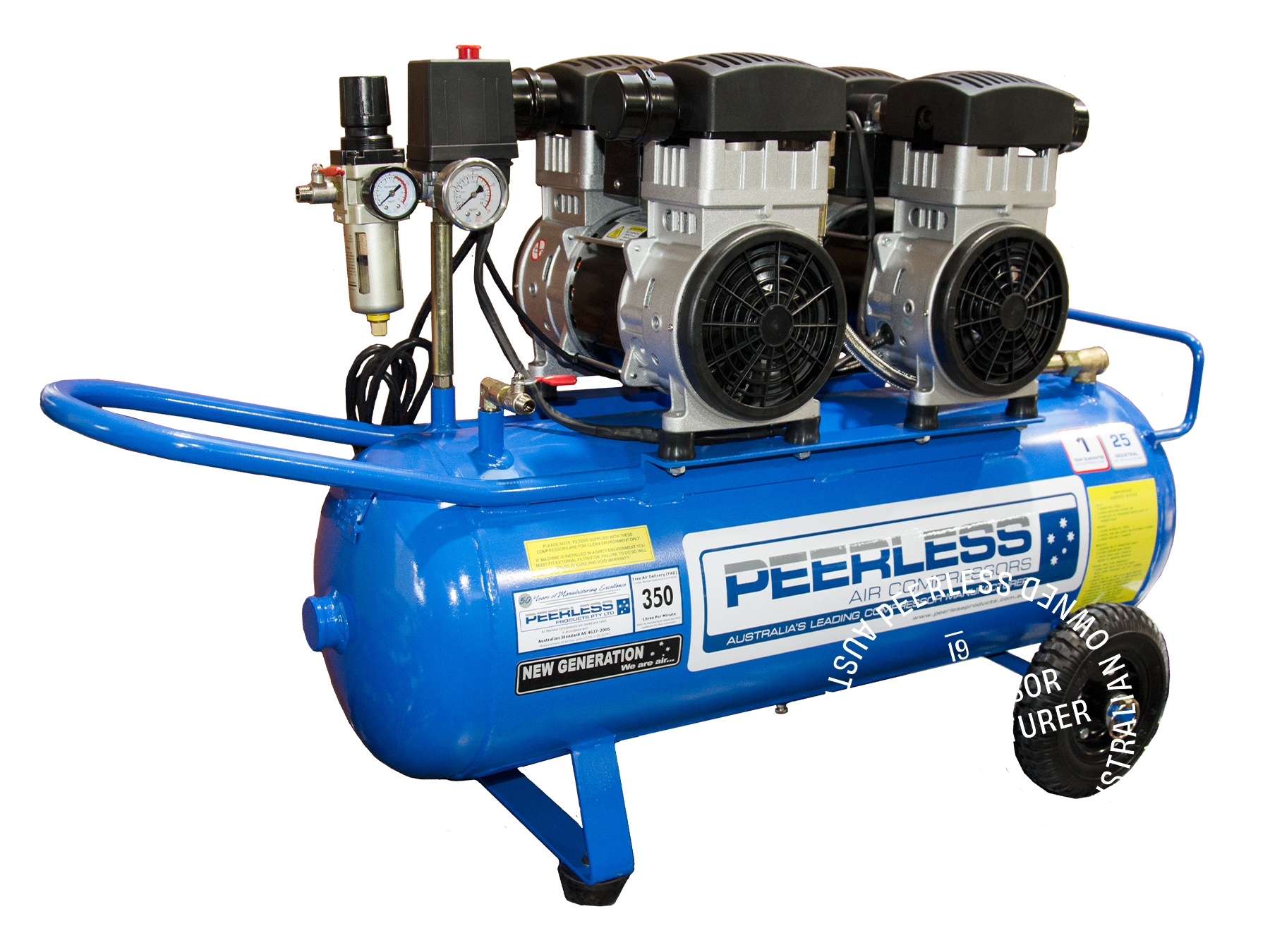 Oil free with performance.

Power on the go.
Take your compressor wherever you go with its easy and flexible design.

Warranty.
Warranty - 1 year pump and motor warranty - Industrial warranty not domestic

Super Quiet Design.
Operating noise of only 52dBA (+/- 2).
Product description
Technical Specifications
Spare parts
The PO25 gives you the ability to have greater air flow whilst employing oil-less technology. Coming with either 2 x 10 AMP plugs (must be separate sockets) or 1 x 15 AMP plug this machine is extremely versatile and powerful. Peerless oil-less range of air compressors are very reliable, cost-efficient and clean.
This air compressor has been fitted with 2 x 2HP copper wound motors. This is where the weight comes into it, as the motor itself weighs 19kg. This is the easiest way to know if your oil less motor is an actual 2HP.

American Teflon barrels and piston rings deliver maximum performance and life span. These have to be serviced based upon hours of use. Being oil free doesn't mean maintenance free - despite what any will tell you. On average they need to be replaced every 2000 Hours of use. Cheaper units are 500 hours of use dependent on material used in manufacturing process. We carry all spare parts and components to be able to service and maintain your air compressor. They are not a throw away air compressor, we believe in making sure your down time isn't impacted, as down time is costly.

Being an Oil Less Air Compressor it doesn't matter about parking level too! compared to oiled Air Compressors. Drawing an impressive 7AMPS compared to 8AMPS on other models this is well suited for low voltage areas!.
Did you know?
In standard environment conditions when your air compressor reaches 14 PSI you have the reached the volume of air in the receiver!. So on this particular model (PO13) at 14 PSI you have 30L of compressed air in the tank. At 28 PSI you now have 60L of compressed air in the tank. So if the cut out pressure is 112 PSI, you now have 240L of stored compressed air! Who said small tanks don't hold enough air?
As mentioned this can be affected by the temperature and other factors.
Smaller tanks also equates to quicker air recovery times of lost pressure along with lower operating temperature of pump.
Important
Please note: air compressors i.e piston type, are not designed to run continuously they must cut in and out. Direct drive models should only have up to a 40-50% duty cycle. Belt Drive hobby models are up to 60-70% and full industrial belt drive models are up to 75-85%. If the compressor runs over these duty cycles it could cause failure. Important - first check voltage on each building site as low voltage will cause the motor to fail on all compressors. It must have be better than 230 volt at peak times. Extension leads will cause voltage drop, it's better to use extra air hose.
| Code | Model | Cylinders | Pump Displacement (CFM) | Free Air Delivery (LPM) | Max PSI | Motor HP | Pump Type | Pump RPM | Amps Draw | Tank Capacity (L) |
| --- | --- | --- | --- | --- | --- | --- | --- | --- | --- | --- |
| 00592-10A | PO25-10A | 4 (2x2) | 17 CFM | 350 LPM | 145 | 4 (2x2) | Oil less | 1350 | 7 | 55L |
| 00592-15A | PO25-15A | 4 (2x2) | 17 CFM | 350 LPM | 145 | 4 (2x2) | Oil less | 1350 | 7 | 55L |
| 00592D-15A | PO25D-15A | 4 (2x2) | 17 CFM | 350 LPM | 145 | 4 (2x2) | Oil less | 1350 | 7 | 55L |
Oilless Series air compressors
Oil free air compressors are very quiet in opperation. Most importantly, they are oil free. Suited for sensitive applications where oil carry over has to be zero. Filtration is still required for particles and moisture. Being oil free doesn't mean maintenancce free! don't get caught in that trap, they are a mechanical item, wearing parts and filter intake elements have to be maintained.
See the range
 Reliable Protection
With up to 5 years warranty for eligible products.
 Proudly Australian
Manufactured and tested in Bendigo, Victoria.
 Unmatched quality
Compressors that are built to last with our expertise.
 Dedicated support
Easy access to our team of technical support experts.