PS3/8 Single Phase Scroll Air Compressor: Direct Drive, 15Amp, 3HP, 320LPM at 8Bar
Serious air flow - Best performance: 320L/min free air. Oil injected scroll delivering performance with a 99% duty cycle - the best you can get on single phase power (15A plug).
Dealer price
Retail
Retail
Tax included.
Power at a Glance
Free air delivery

Litres per minute of air

320LPM @ 100PSI

Motor

Electric 3HP

Power supply

15 Amp Plug

Low Pressure

Pounds per square inch

Max 116 PSI
See all the specs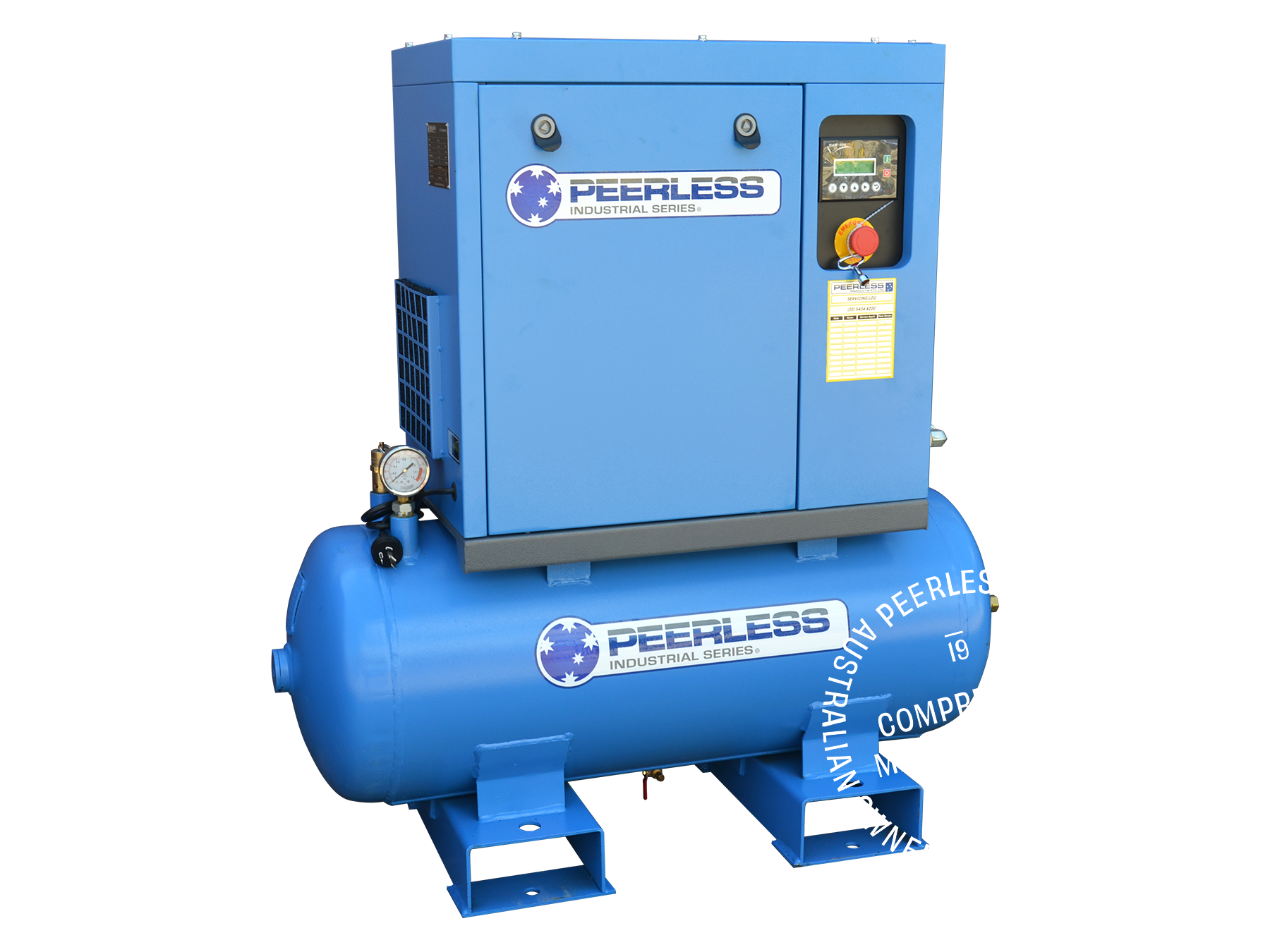 Serious air flow - Best performance
Product description
Technical Specifications
Spare parts
The Peerless Scroll Air Compressor is designed for that serious DIY handyman working from home or for the industrial workshop (1-2 man) wanting greater air flow. Being single phase this air compressor will allow operators that do not have three phase power achieve greater air flow than your standard Single Phase Piston Air Compressor.

Compared to a Piston Air Compressor, this Scroll Air Compressor has a 99% duty cycle that enjoys to be worked hard, where a Piston Air Compressor requires a duty cycle. Along with being able to work harder than a piston, this delivers 320 litres of air (Free air delivery measured at 8 Bar/116PSI). This makes this well suited for spray painting, breathable applications along with medical equipment operations with further filtration* and much more.

With this air flow from the Peerless Scroll its equivalent to a 3 Phase Piston Air Compressor giving 545 litres per minutes that require a duty cycle, now that's some serious air!

The overall size of the air compressor is also impressive, fitted on top of a 110L tank measuring at 1090MM X 380MM X 1110MM. This makes it one of the most compact air compressors. When in operation it is also very quiet. The electronic controller does and shows you all the information you need. The controller will also show you the service intervals and alarm when a service is required. This is critical to keeping your air compressor in top shape. As mentioned, being 15A power supply, you will need to have the correct power supply, as power is critical in the performance of any air compressor. Any voltage drop will still cause capacitor failures or motor burn outs, so check that you have suitable power. If you are unsure talk to your Peerless specialist team.

Peerless Products are a professional wholesaler that distribute their products through a dealer network. They provide you local expert advice and support backed by Peerless Products. We pride ourselves on aftermarket support and service partnered with our platinum dealers. This is so you have a physical "go to" for any support required. Having that local touch of a "go to" that support you and your business enables that extra bit of confidence when purchasing a Peerless branded air compressor.
If you require any further information or advise contact Peerless Products on 03 5434 4200.
Code
HP / KW
PSI / BAR
Free Air Delivery
LPM / CFM
Dimensions (LxWxHmm)
Weight
Single phase
Plug
Tank Capacity (L)
PS3/8
3HP / 2.2KW
116PSI / 8 Bar
320 / 11.3
1090x380x1110
125kg
15A
110L
Technical Data
Cooling
method
Discharge
temp (°C)
Driving type
dBa (+/-2)
Outlet
thread
Electricity
Amps draw
(Full load)
Air cooled
Ambient
temp +15°C
Direct driven
65
1/2"BSP
230V
13.3A
Single phase air compressors
All Peerless single phase compressors are designed for efficiency and are suitable for full industrial use. Each compressor also features a smart start filter, reducing startup amps by 30-40%, making them ideal choices for use in low voltage areas.
See the range
 Reliable Protection
With up to 5 years warranty for eligible products.
 Proudly Australian
Manufactured and tested in Bendigo, Victoria.
 Unmatched quality
Compressors that are built to last with our expertise.
 Dedicated support
Easy access to our team of technical support experts.