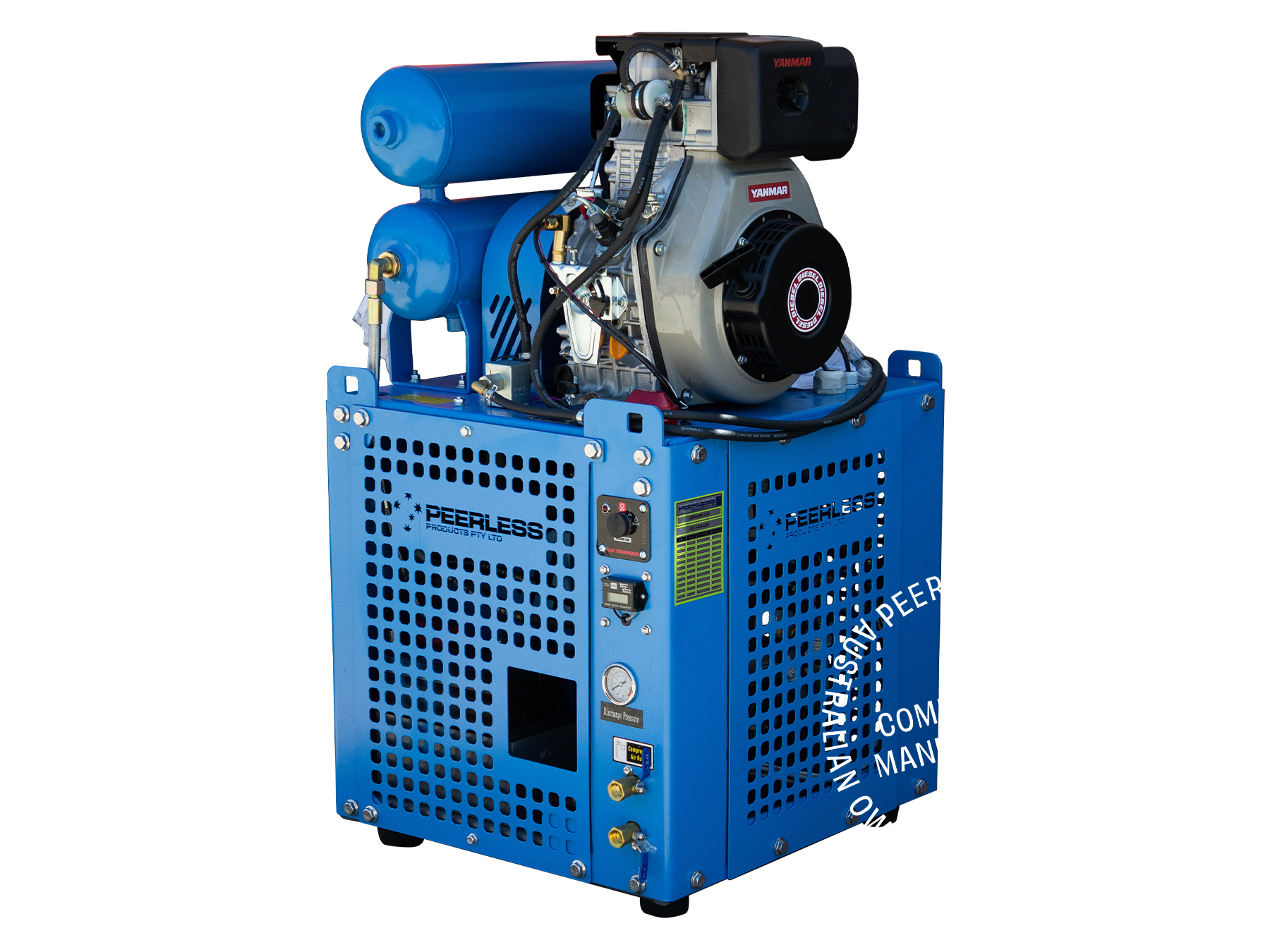 TITAN 10 Engine Rotary Screw Air Compressor: Belt Drive, 10-13HP, 1040LPM at 8Bar
Dealer price
$15,750.00
Retail
Retail
Tax included.
Power at a Glance
Free air delivery

Litres per minute of air

1040LPM @ 100PSI

Diesel motor

Key start as standard

L100 Yanmar Diesel

Engine GX390

Key start as standard

GX390 Honda Petrol

High Pressure

Pounds per square inch

Max 175 PSI

Warranty

Pump / Motor / Tank

1 Year / 3 Years / 10 Years
See all the specs
Built for the hard worker in the trade!

Conrader Idler Valve.
USA made air operated idler valve. Save fuel and money.

Manufactured in Australia.
Built and assembled in Bendigo, Victoria for over 60 years.

Power on the go.
Take your compressor wherever you go with its easy and flexible design.

Piece of mind.
Full range of service kits and spare parts available. Guaranteed back up and support.
Product description
Technical Specifications
Spare parts
Peerless are proud to announce a range of engine powered Rotary Screw Compressors.
We have always been involved with screw compressors and have now designed our own engine driven units to suit the demands of the Australian market after much consulting.
Built and manufactured in Australia we pride this range on its reliability and quality to last in the tough Australian Conditions. Yanmar and Honda are both world renowned in their production of engines with a huge 3 year warranties to back it. All Honda and Yanmar motors built for the Australian market are compliant with strict emission standards. The Air end is a Peerless design suited for our tough conditions which has the ultimate air efficiency, low noise, at the highest quality standards.
Key start as standard, 2 x 1/2" outlets and a stainless-steel pressure gauge all at a convenient position when sitting on the back of your Ute or truck.
Get the ultimate feature and add a diesel lift pump - plumb from your truck or Ute's fuel line to feed your air compressors fuel to eliminate having to fuel manually. Just keep your truck or Ute fuel tank fueled up. The Yanmar L100 will consume 1.65L per hour while idling and consume 2.2L per hour when in load / producing air!
This ultimate work horse will produce enough air to operate your 3/4" to 1" impact guns. Awesome air performance for machinery blow downs or even filter blow outs. Tyre inflation with ease! The compact design makes this one of Australia's compact rotary screw compressors offered on the market with a small engine. The protective shields assist in preventing any damage to any major componentry. Ease of serving and maintaining this air compressor was also in mind when developing. All your filters are easily accessible.
Remote start with emergency stop can be fitted to this air compressor to meet any onsite job requirements.
Optional extras to consider when ordering:
Fuel pump – lift pump
MDG15 Mine compliant retro box
Wiring lumen extension (single or twin)
Specially build to meet your requirements
Key things to check:

Check the positioning of your air compressor

 – efficient air flow, dusty environment - keep an eye on air intake element.

Change the oil

 - 

 

if discoloured change immediately, this is the life line of your air compressor.


Change the air intake filter

 - 

This will keep the pump working efficiently and keep the oil clean protecting your bearings or Air-end.

Inspect your V belts

 – 

Make sure you have the right tension and no wear and tear.


Correct ventilation around the air compressor

 – 

all air compressors need air flow.


Check all your inline filters

 – 

restricted or blocked filters lower your efficiency to work by reducing your air flow – these work harder in hotter months.
TITAN10D pictured with a diesel lift pump - optional extra.

Peerless Products are a professional wholesaler that distribute their products through a dealer network. They provide you local expert advice and support backed by Peerless Products. We pride ourselves on aftermarket support and service partnered with our platinum dealers. This is so you have a physical "go to" for any support required. Having that local touch of a "go to" that support you and your business enables that extra bit of confidence when purchasing a Peerless branded air compressor.
Specifications
Code
HP / kW
Compressor Type
Pressure
Flow Rate
Air Outlet Thread
TITAN10
10HP / 7.5kW
Oil Injected Rotary Screw
8Bar / 116PSI
1040LPM / 36.76CFM
2 x 1/2" BSP
TITAN10P
13HP / 9.7kW
Motor Specifications
Engine
Starting
System
Charging
System
Fuel
Consumption
Driving
Type
Bore x Stoke
Engine
Displacemnt
Yanmar L100
Recoil / 12V Electric
12 Volt
15Amp
1.65L/hour @ 80% load
2.2L/hour @ 100% load
Belt Drive
85 x 75
0.453 (L)
Honda GX390
3.5L/hour @ 3600RPM
cont. rated power
85 x 64
0.389 (L)
 Reliable Protection
With up to 5 years warranty for eligible products.
 Proudly Australian
Manufactured and tested in Bendigo, Victoria.
 Unmatched quality
Compressors that are built to last with our expertise.
 Dedicated support
Easy access to our team of technical support experts.