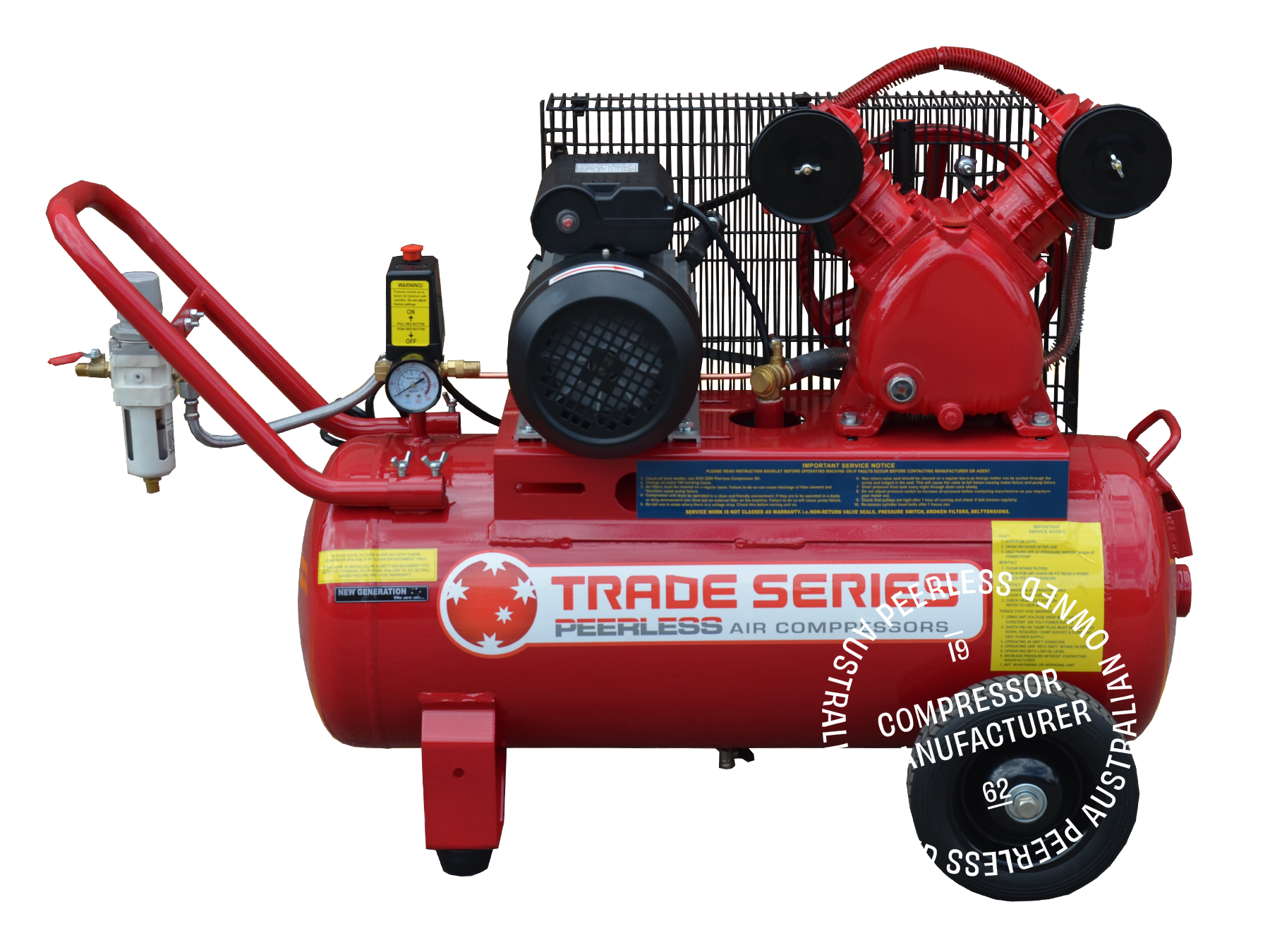 TS13V Single Phase Air Compressor: Belt Drive, 10Amp, 2.2HP, 190LPM
Compact commander: 190L/min free air. water trap filter regulator. Cast iron pump, 3-year warranty. Impressive performance in a compact design.
Dealer price
Retail
Retail
Tax included.
Power at a glance.
Free air delivery

Litre per minute

190LPM @ 100PSI

Motor

Electric 2.2HP

Power supply

10 Amp Plug

Pressure

Pounds per square inch

Max 145 PSI
See all the specs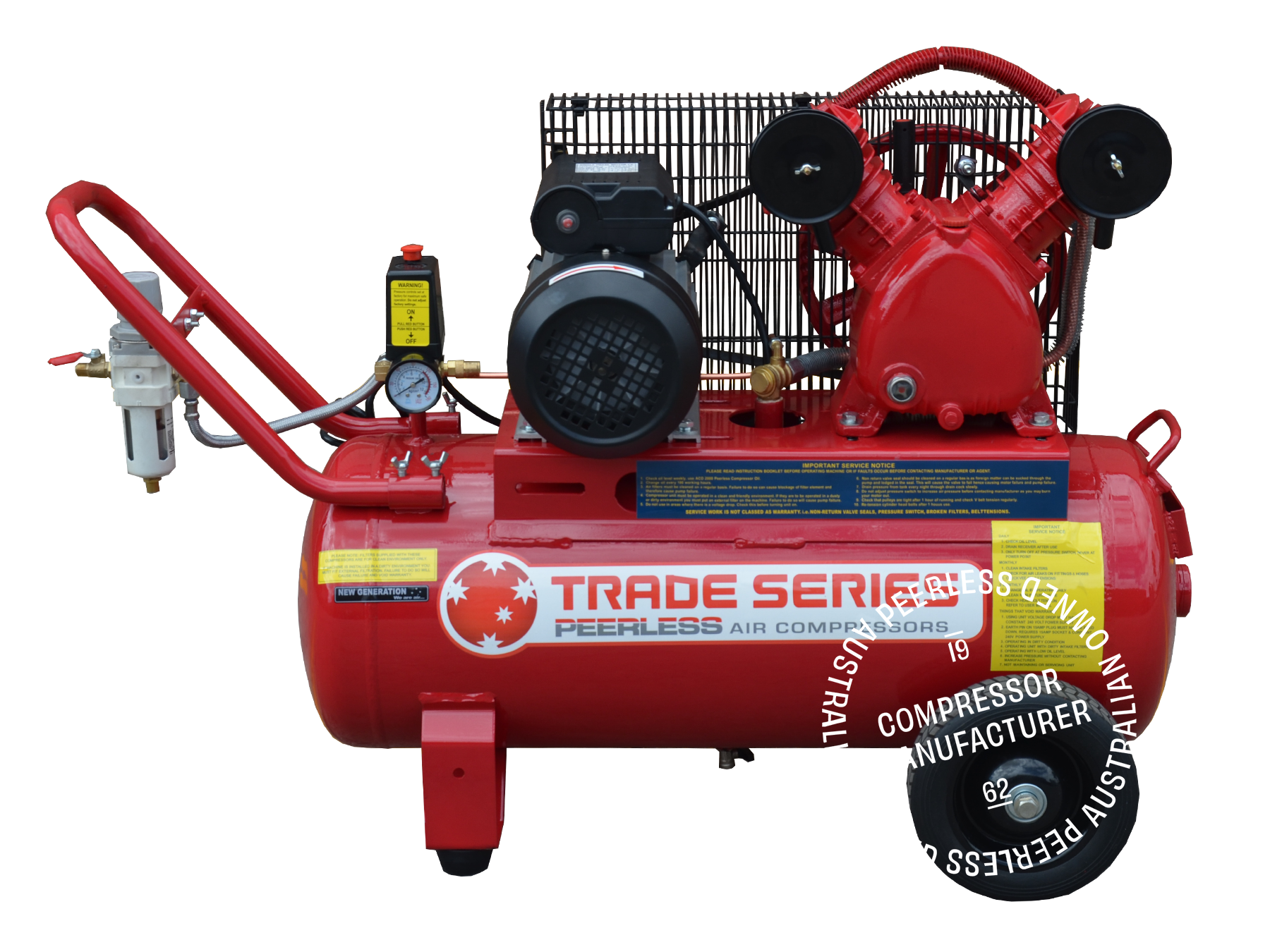 Impressive performance in a compact design.

Power on the go.
Take your compressor wherever you go with its easy and flexible design.
Product description
Technical Specifications
Spare parts
The "Trade Series" TS13V is a mid tier 2.2HP single phase air compressor when you put it up against the Peerless P13 model. But in saying so, it does deliver 190 litres of air per minute at 100PSI, fitted on a 50L pressure vessel. Removable handle makes it easy to store in a confined space, with a regulator mounting point on the handle. Solid wheels and a wire belt guard compared to metal cased, makes this the mid tier in comparison.
If you're looking at just mounting to the ground, it will sit flat without the wheels. Standard metal intake filters with replicable element cartridges.
Available exclusively through our Peerless Platinum dealer network.
Code
Model
Pump Displacement (CFM)
Free Air Delivery (LPM)
Max PSI
Motor HP
Warranty
Pump
Warranty
Motor
Tank Capacity (L)
Pump up
time to 100PSI
Dimensions (mm)
Weight (kg)
TS13V
TS13V
13 CFM
190 LPM
145
2.2
3 Years
1 Year
50L
-
-Lx-Wx-H
-kg
Technical Data
Cooling
method
Pump type
Cylinders
Pump head
tension
Oil capacity
Pump RPM
Outlet thread
Electricity
Amps draw
Air cooled
PB30
2
16 FT LB
22.4NM
1.25L
1100
1/4"BSP
240V / 10A
9.8
Trade Series air compressors
Peerless "Trade Series" of air compressors are a mid tier. Unlike the Peerless blue flagship range, the pistons are a smaller diameter with slightly higher pump revving. This delivers a lesser air delivery based at the delivery, but suited for some areas of the market as a price point. Warranties on this particular range range from 1 year to 3 years.
Available exclusively through our Peerless Platinum dealer network.
See the range
 Reliable Protection
With up to 5 years warranty for eligible products.
 Proudly Australian
Manufactured and tested in Bendigo, Victoria.
 Unmatched quality
Compressors that are built to last with our expertise.
 Dedicated support
Easy access to our team of technical support experts.