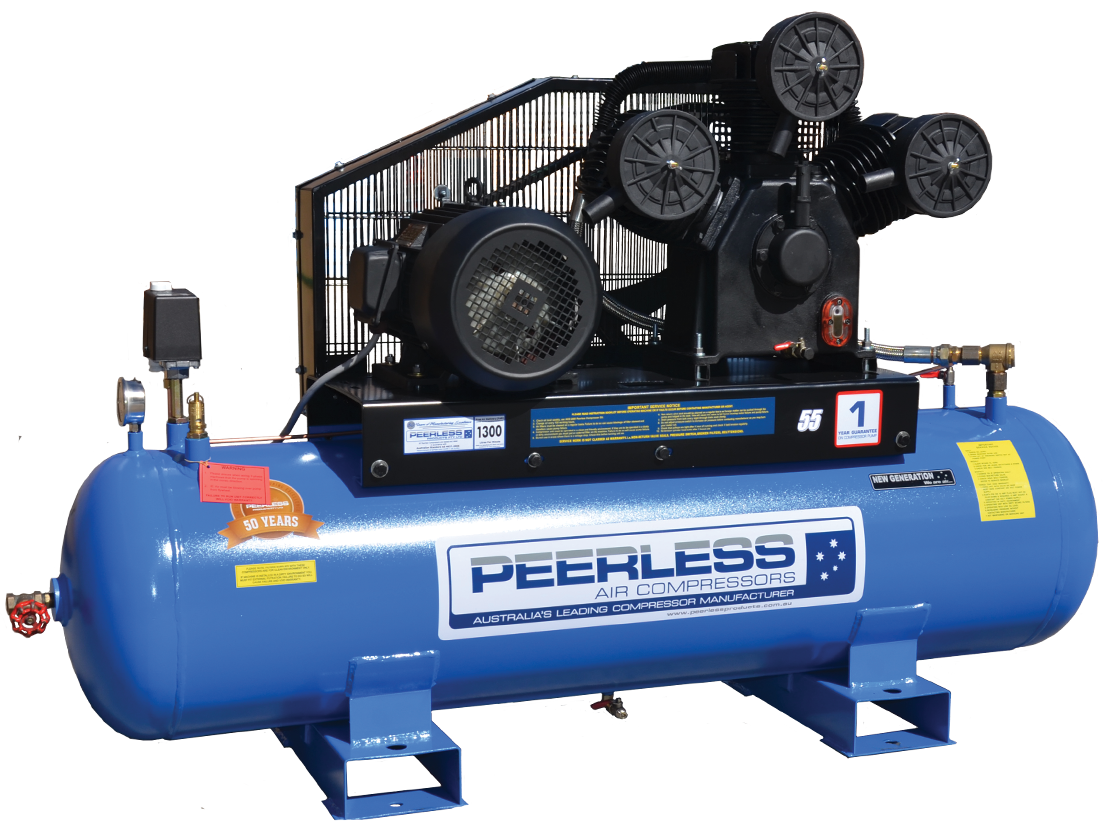 P55 High Flow Three Phase Air Compressor: Belt Drive, 10HP, 1300LPM
Performance setter: 1300L/pm @ 100PSI, if you're after large volumes of air, this is the biggest single stage compressor as a piston with a 10HP motor!
Dealer price
Retail
Retail
Tax included.
Power at a Glance
Free air delivery

Litres per minute of air

1300LPM @ 100PSI

Motor

10HP 3 Phase

Pressure

Pounds per square inch

Max 145 PSI
See all the specs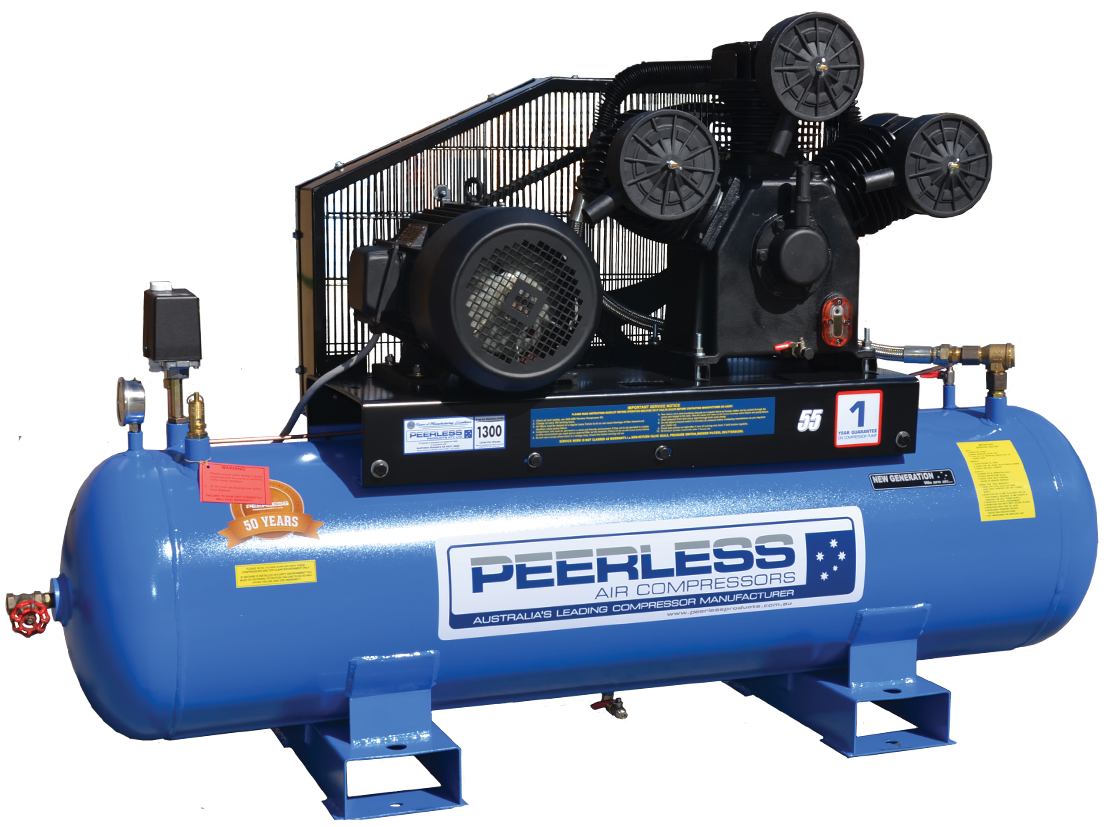 Full industrial, high flow.

Seal of approval.
Australian GEMS approved three phase motor.

Piece of mind.
Full range of service kits and spare parts available. Guaranteed back up and support.

Warranty.
Warranty - 1 year pump and motor warranty - Industrial warranty not domestic
Product description
Technical Specifications
Spare parts
Offering a massive 1300LPM free air delivery at 100PSI the P55 High Flow is suited for applications where large quantities of air is required.
To achieve this volume of air the unit features a single stage W95 Pump. Three low pressure heads that intake large volumes of air, unlike the 2 stage pump found on a PHP52 model. Due to this trade off the P55HF is capable of producing a larger volume of air at a lower pressure with a maximum pump pressure of 145PSI.

We recommend this compressor to workshops with around 5 - 6 operators and is ideal for mechanics and tyre fitters. If you require clean and dry air we have a complete range of refrigeration air dryers and inline filtration to keep your equipment in the best working order.

If you require more air we recommend upgrading to our rotary screw compressor range. The air performance along with energy efficiency with variable speed technology can save your business time and money. It's all about the increased productivity, no down time and energy cost reductions. If you're unsure about what's best to suit your business, we're here to help. A Peerless specialist will tell you if it would be beneficial or not to look at the screw compressor option.
Helpful tip:
When mounting, be sure to get "high density" rubber matting and then fix to a secure footing as per your states regulations. Remember, when installing allow enough space for the air compressor to breath, air flow is forced over the pump to keep it cool. If mounted hard up against a wall or boxed, it will have trouble getting the correct air circulation.
All pressure vessels can be supplied with a "Manufacturing Data Report" along with "Registered Design" for Work Safe registration.
Peerless Products pressure vessels are all made to AS1210.
Performance of all our belt driven air compressors are to AS4637.

For over 60 years Peerless Products has been delivering and exceeding the needs of industry. Ask us about your requirements.
Code
Model
Pump Displacement (CFM)
Free Air Delivery (LPM)
Max PSI
Motor HP
Warranty
Pump
Warranty
Motor
Tank Capacity (L)
Pump up
time to 100PSI
Dimensions (mm)
Weight (kg)
00136
P55HF
55 CFM
1300 LPM
145
10
1 Year
1 Year
200L
0.55 - 1.00 Min
1700Lx500Wx1100H
260kg
Technical Data
Cooling
method
Pump type
Cylinders
Pump head
tension
Oil capacity
Pump RPM
Outlet thread
Electricity
Amps draw
Air cooled
W95
3
35 FT LB
47.45NM
2.3L
949
1/4" BSP & 1/2" BSP
415V
16.2
Dealer price
Retail
Retail
---
Dealer price
Retail
Retail
Performance setter: 1300L/pm @ 100PSI, if you're after large volumes of air, this is the biggest single stage compressor as a piston with a 10HP motor!
Additional Components of P55HF
---
 Reliable Protection
With up to 5 years warranty for eligible products.
 Proudly Australian
Manufactured and tested in Bendigo, Victoria.
 Unmatched quality
Compressors that are built to last with our expertise.
 Dedicated support
Easy access to our team of technical support experts.