PHP15 Diesel Air Compressor: Belt Drive, Yanmar L48, 320LPM - for High Pressure
Dealer price
Retail
Retail
Tax included.
Power at a Glance
Free air delivery

Litres per minute of air

320LPM @ 100PSI

Diesel motor

Key start as standard

L48 Yanmar Diesel

High Pressure

Pounds per square inch

Max 175 PSI

Warranty

Pump / Motor / Tank

5 Years / 3 Years / 10 Years
See all the specs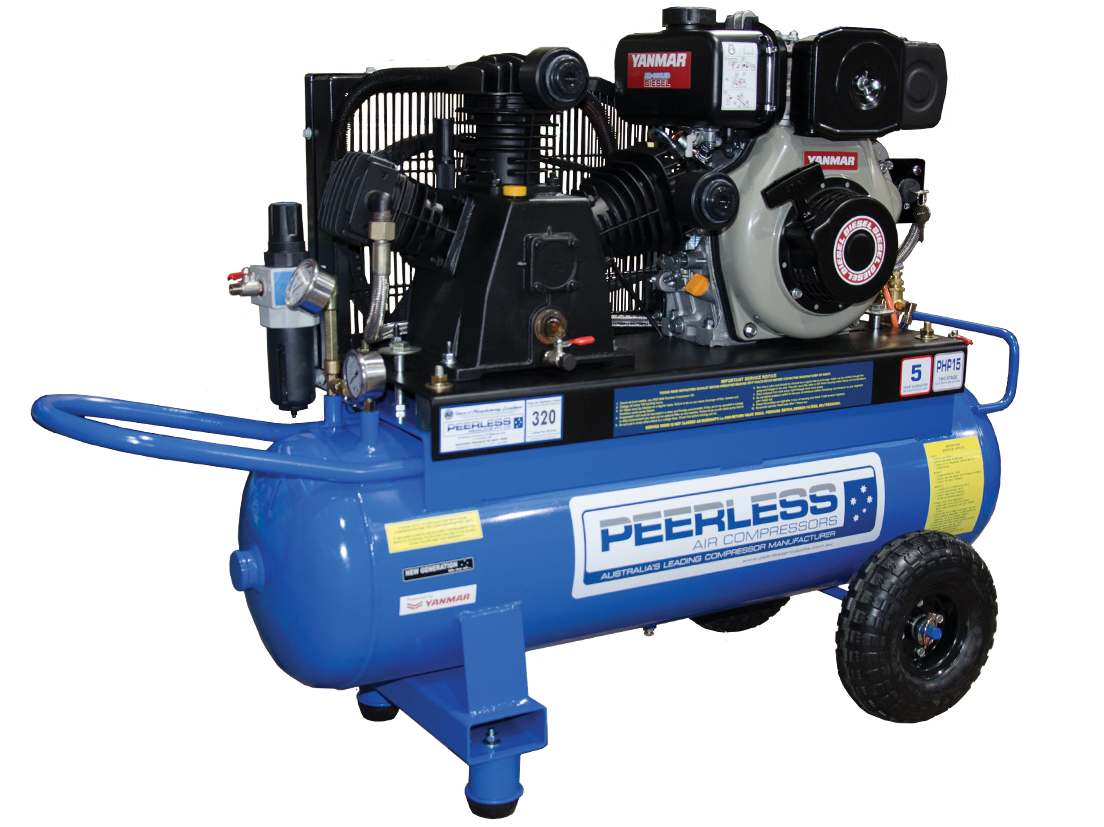 Built for the hard worker in the trade!

Conrader Idler Valve.
USA made air operated idler valve. Save fuel and money.

Manufactured in Australia.
Built and assembled in Bendigo, Victoria for over 60 years.

Power on the go.
Take your compressor wherever you go with its easy and flexible design.
Product description
Technical Specifications
Spare parts
Peerless Products have a very unique design when it comes to the Diesel range of air compressors. We have a floating top plate that isn't hard welded to the tank. We do this to assist in eliminating the vibration from the motor and the pump, limiting the vibration transfer to the air receiver reduces metal stress and less load be transferred to where it is also mounted. This is also an advantage to the user or operator as if you would like to dismount and have the tank situated as where on a vehicle build you can separate easier at no additional cost*. You then have the option of mounting the top plate (motor and Pump) to a lower centre of gravity and then the pump can be placed under the body tray. We use Yanmar diesel engines which are well used throughout Australia, these diesel engines also run a bit quieter than other brands in the market when comparing side by side. Key start engines are the only option we do in the diesel range. The conrader valve fits in perfectly with the Yanmar engine able to idle up and down when air demand is required, the air operated piston valve will automatically throttle up and down with the excess air not being required being vented out of the control valve.
Every Peerless Diesel build comes with the best suited water trap filter regulator fitted, being a unit that runs 0-145PSI or 0-175PSI, we have it covered so you can connect and start work. With that being said, we run and test every air compressor so that we know it will be in top working order when you receive delivery.
If your looking at doing a service vehicle and our standard models are not within your requirements, we are more than happy to custom build. Doing a custom build doesn't mean that it's going to be more expensive.
We can design and advise some really great ideas that we have used in previous designs to increase work productivity or even reduce the foot print of the overall air compressor. This means more space for tools or other equipment along with using a lift pump directly to the diesel engine. This will eliminate manually refuelling the air compressor which in turns reduces your weight of carrying extra fuel along with a hazard reduction of handling fuel.
Add a MDG15 retro box is always an added value, emergency stop, isolation switch, key start ignition and light indicator that complies for every mine site. If you're not required to have a MDG15 box, we can extend your wiring lumen so you can fit inside your tool box, even split it so you can start your air compressor on either side of the vehicle.
Standard fitted features;
Yanmar key start engine
Conrader idle control system – USA made
Floating top plate – Peerless design
AS1210 approved pressure vessel – MDR report certificate available on request
Approved safety valve – safety certificate
10 year tank warranty
Stainless steel gauges (not plastic)
Solid belt guard  (not wire)
Flexible braided outlet hose from pump
2 air outlets - 1 x main tank outlet, 1 x water trap regulator outlet
Optional extras to consider when ordering:
Fuel pump – lift pump
MDG15 Mine compliant retro box
Wiring lumen extension (single or twin)
Specially build to meet your requirements
Performance of all our belt driven air compressors are to AS4637.
For over 60 years Peerless Products has been delivering and exceeding the needs of industry. Ask us about your requirements.

Code
Model
Pump Displacement (CFM)
Free Air Delivery (LPM)
Max PSI
Engine
Warranty
Pump
Warranty
Engine
Tank Capacity (L)
Pump up
time to 100PSI
Dimensions (mm)
Weight (kg)
00111
PHP15D
15 CFM
320 LPM
175
Yanmar
L48
5 Years
3 Years
68L
1.25 - 1.30 Min
1300Lx460Wx910H
140kg
Technical Data
Cooling
method
Pump type
Cylinders
Pump head
tension
Pump Oil capacity
Pump RPM
Outlet thread
Engine Fuel capacity
Engine oil
capacity
Air cooled
2065T
2 Stage
3
12 FT LB
16.27NM
1.375L
1236
1/4"BSP
1.9L
800ml
10W/40
Dealer price
Retail
Retail
Top End of Pump 2065T
Dealer price
Retail
Retail
Dealer price
Retail
Retail
Dealer price
Retail
Retail
Internal Components of Pump 2065T
External / Body Components of 2065T
---
 Reliable Protection
With up to 5 years warranty for eligible products.
 Proudly Australian
Manufactured and tested in Bendigo, Victoria.
 Unmatched quality
Compressors that are built to last with our expertise.
 Dedicated support
Easy access to our team of technical support experts.