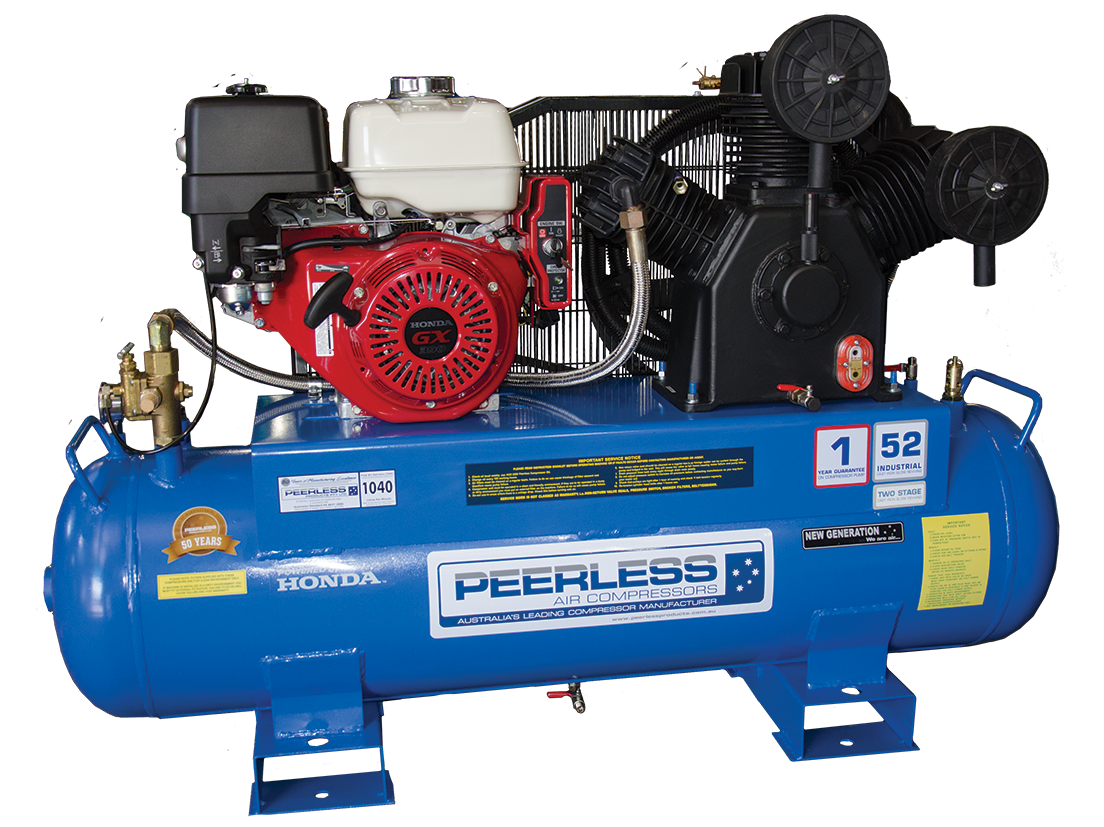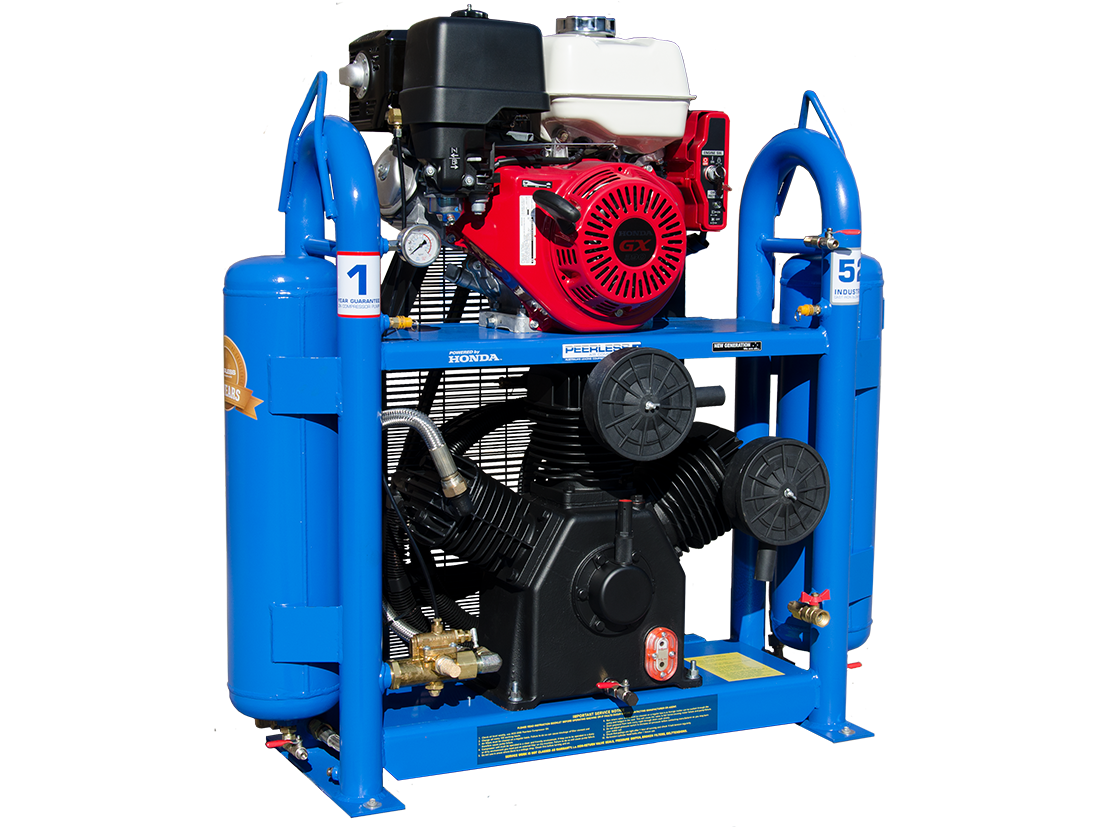 PHP52 Petrol Air Compressor: Belt Drive, Honda GX390, 1040LPM - for High Pressure
Dealer price
Retail
Retail
Tax included.
Power at a Glance
Engine GX390

Key start as standard

GX390 Honda Petrol

High Pressure

Pounds per square inch

Max 175 PSI
See all the specs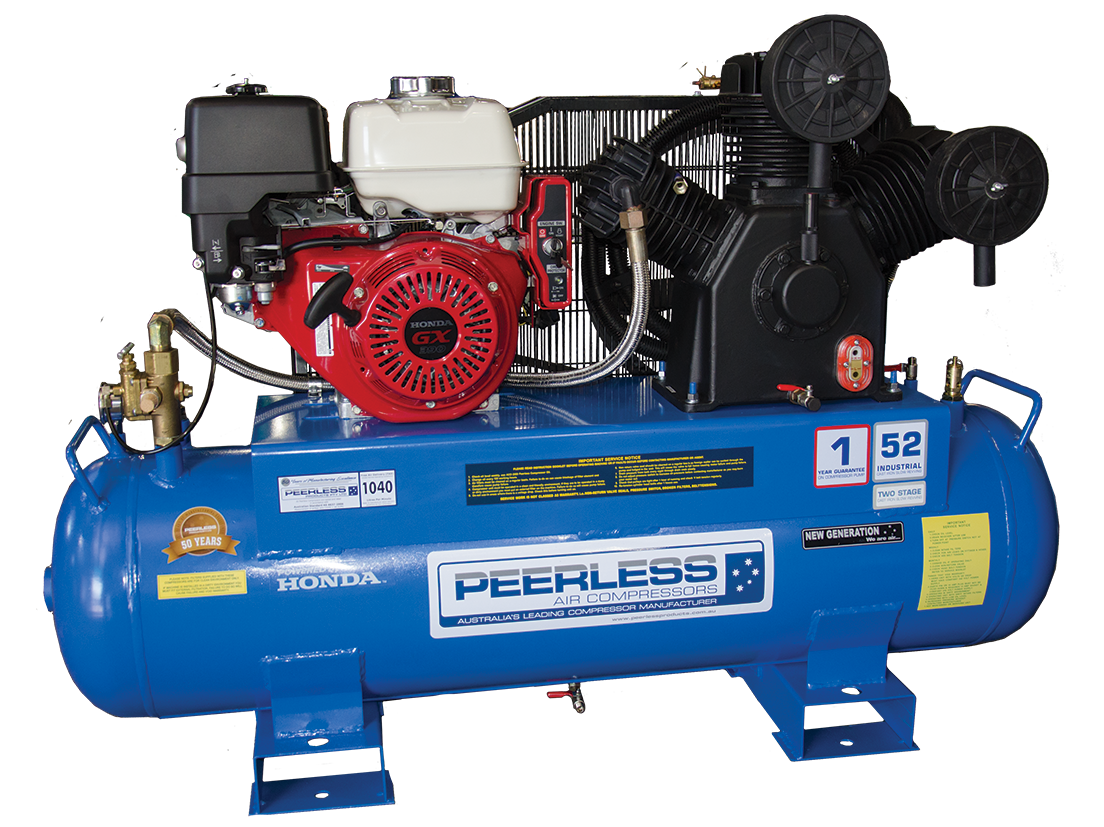 Built tough for Australian conditions.

Conrader Idler Valve.
USA made air operated idler valve. Save fuel and money.

Manufactured in Australia.
Built and assembled in Bendigo, Victoria for over 60 years.

Power on the go.
Take your compressor wherever you go with its easy and flexible design.
Product description
Technical Specifications
Spare parts
The largest of our Petrol Compressors – The PHP52 has an enormous 1040 Litres per minute of Free Air Delivery. With a massive 150 Litre Tank this compressor is a great option where a good 3 Phase power supply is not available and you demand large amounts of air.
Being run by the massive Honda GX390 Petrol motor this unit is built tough to survive anything the Australian climate can throw at it. All backed by an Australian wide 3 Year Honda warranty. The GX390 comes electric start standard however there are no provisions for a battery or battery leads.
Electric start engine does not come with battery, leads or provisions for battery.
We can manufacture to your design plus there are other standard designs for each model.
Performance of all our belt driven air compressors are to AS4637.

For over 60 years Peerless Products has been delivering and exceeding the needs of industry. Ask us about your requirements.
Code
Model
Pump Displacement (CFM)
Free Air Delivery (LPM)
Max PSI
Engine
Warranty
Pump
Warranty
Engine
Tank Capacity (L)
Pump up
time to 100PSI
Dimensions (mm)
Weight (kg)
00099
PHP52P
52 CFM
1040 LPM
175
Honda GX390
Key Start
1 Year
3 Years
150L
0.55 - 1.00 Min
1490Lx485Wx1050H
218kg
00099-UO
Under Over
52 CFM
1040 LPM
175
Honda GX390
Key Start
1 Year
3 Years
32L
-
1080Lx450Wx1030H
196kg
Technical Data
Cooling
method
Pump type
Cylinders
Pump head
tension
Pump Oil capacity
Pump RPM
Outlet thread
Engine Fuel capacity
Engine oil
capacity
Air cooled
W95II
Triple head
3
35 FT LB
47.45NM
2.3L
1020
1/2"BSP
6.1L
1.1L
10W/30
Petrol air compressors
Honda world class engines are used on all Peerless petrol models. All petrol models come standard with American made idler control valves and piston for improved fuel economy and emissions.
All Honda Petrol Engines supplied on a Peerless Air Compressor are designed and approved for the Australian market, which means it can be serviced/warrantied throughout Australia with any of the approved Honda service agents.
See the range
 Reliable Protection
With up to 5 years warranty for eligible products.
 Proudly Australian
Manufactured and tested in Bendigo, Victoria.
 Unmatched quality
Compressors that are built to last with our expertise.
 Dedicated support
Easy access to our team of technical support experts.