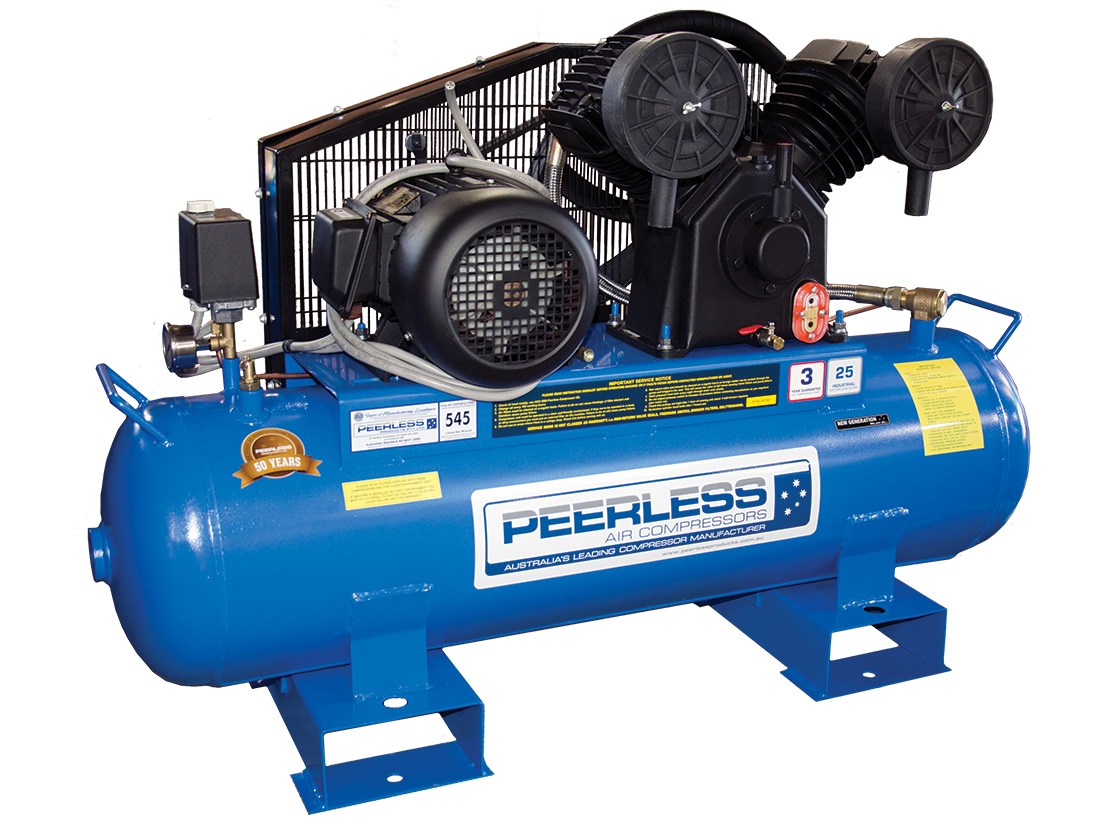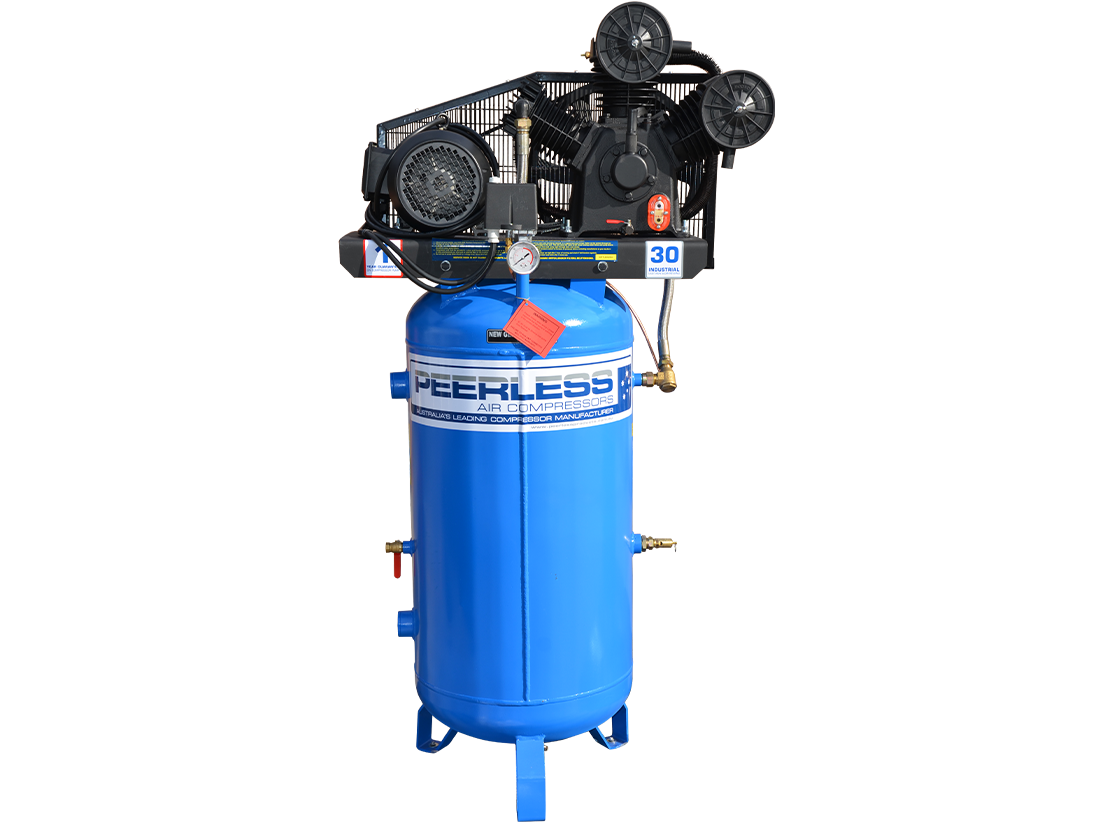 PV25 Three Phase Air Compressor: Belt Drive, 5.5HP, 545LPM
Maximum air performance: 545L/min, slow revving cast iron pump with 90mm pistons.
Dealer price
Retail
Retail
Tax included.
Power at a Glance
Free air delivery

Litres per minute of air

545LPM @ 100PSI

Motor

5.5HP 3 Phase

Pressure

Pounds per square inch

Max 145 PSI
See all the specs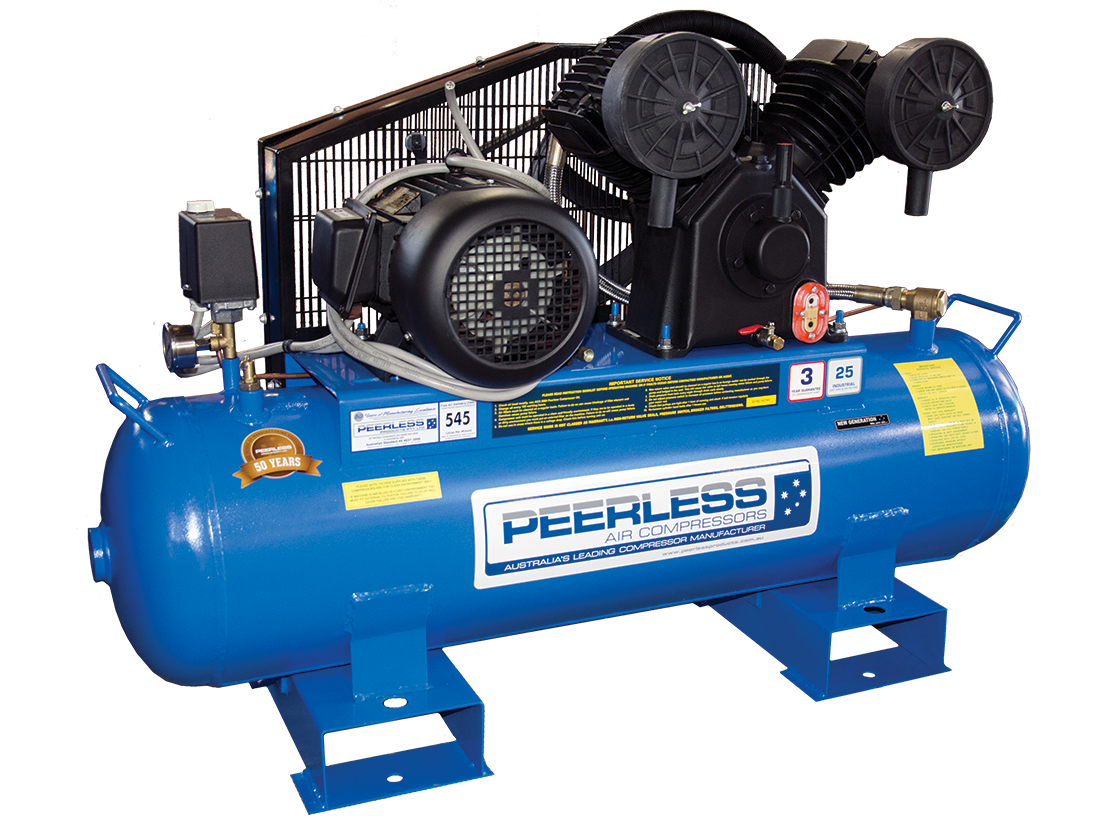 Quality and performance.

Seal of approval.
Australian GEMS approved three phase motor.

Piece of mind.
Full range of service kits and spare parts available. Guaranteed back up and support.
Product description
Technical Specifications
Spare parts
The PV25 is a V cast iron pump single stage air compressor. It gives a massive 545 litres of free air, with a maximum pump pressure of 145PSI.
The pistons are 90mm in diameter, making each stroke count for maximum air performance without having to over speed the pump RPM. When it comes to pump reliability, keeping the pump RPM under 1200RPM means you're not over working it.
This is one of the most popular three phase models on the market and is ideal for a 2-3 man workshop.
Able to run;
Low & high pressure spray guns
Car tyre inflation gun
Truck tyre inflation gun
Stapling / fitting gun
Framing nail / Grease gun
Chalking gun / Riveter gun
Screw driver
1/2" Ratchet gun
1/2" Impact gun
Air duster
4" Angle grinder
6" Orbital sander
Air drill
Engine cleaning gun
Sand blasting gun
Air hammer
Hi torque 1/2" Impact gun
Hi torque 3/4" Impact gun
1/4" Die grinder
Plasma Cutter
Air Gauging Tool

Helpful tip:
When mounting, be sure to get "high density" rubber matting (00011) and then fix to a secure footing as per your states regulations. Remember, when installing allow enough space for the air compressor to breath, air flow is forced over the pump to keep it cool. If mounted hard up against a wall or boxed, it will have trouble getting the correct air circulation.
All pressure vessels can be supplied with a "Manufacturing Data Report" along with "Registered Design" for Work Safe registration.
Peerless Products pressure vessels are all made to AS1210.
Performance of all our belt driven air compressors are to AS4637.

For over 60 years Peerless Products has been delivering and exceeding the needs of industry. Ask us about your requirements.
Code
Model
Pump Displacement (CFM)
Free Air Delivery (LPM)
Max PSI
Motor HP
Warranty
Pump
Warranty
Motor
Tank Capacity (L)
Pump up
time to 100PSI
Dimensions (mm)
Weight (kg)
00555
PV25
25 CFM
545 LPM
145
5.5
3 Years
1 Year
110L
1.00 - 1.05 Min
1090Lx450Wx930H
158kg
00110
PV25V
25 CFM
545 LPM
145
5.5
3 Years
1 Year
190L
2.20 - 2.25 Min
860Lx550Wx1640H
190kg
Technical Data
Cooling
method
Pump type
Cylinders
Pump head
tension
Oil capacity
Pump RPM
Outlet thread
Electricity
Amps draw
Air cooled
V90
2
30 FT LB
40.67NM
1.5L
1050
1/4" BSP & 1/2" BSP
415V
6.6
Dealer price
Retail
Retail
Top End of Pump V90
Internal Components of Pump V90
External / Body Components of Pump V90
---
Dealer price
Retail
Retail
---
Dealer price
Retail
Retail
Maximum air performance: 545L/min, slow revving cast iron pump with 90mm pistons.
Additional Components of PV25
---
 Reliable Protection
With up to 5 years warranty for eligible products.
 Proudly Australian
Manufactured and tested in Bendigo, Victoria.
 Unmatched quality
Compressors that are built to last with our expertise.
 Dedicated support
Easy access to our team of technical support experts.