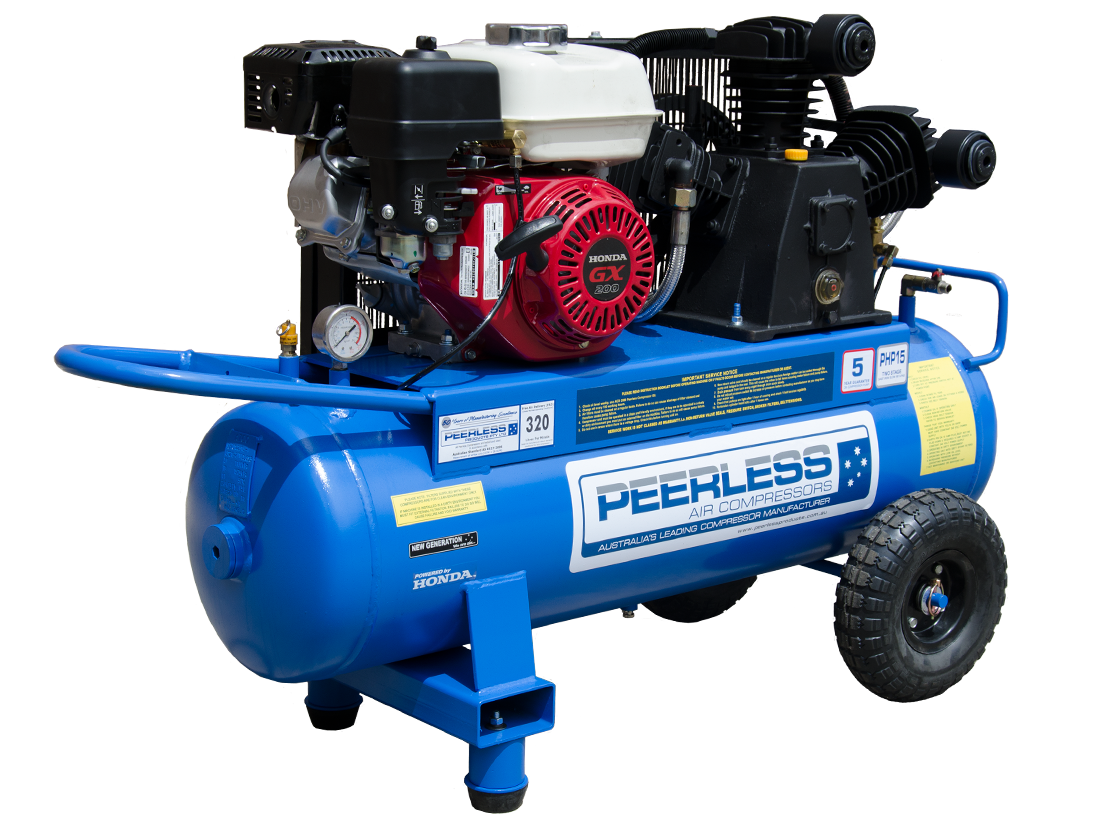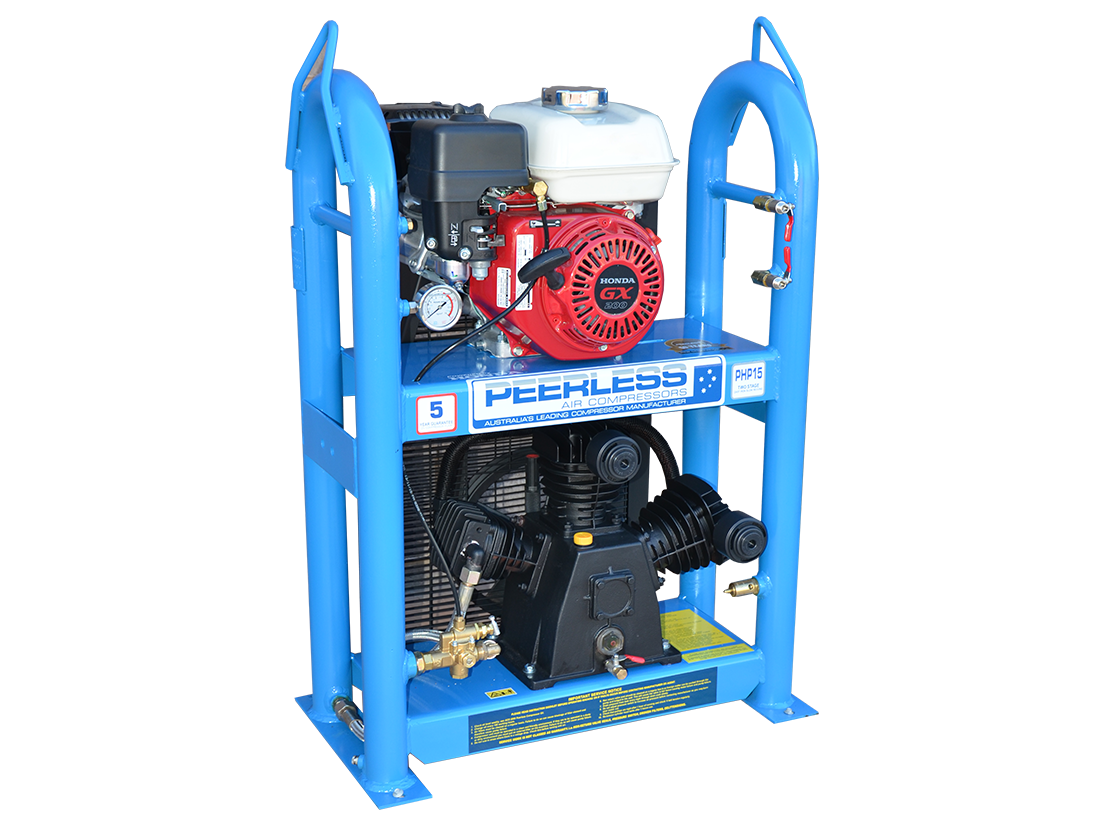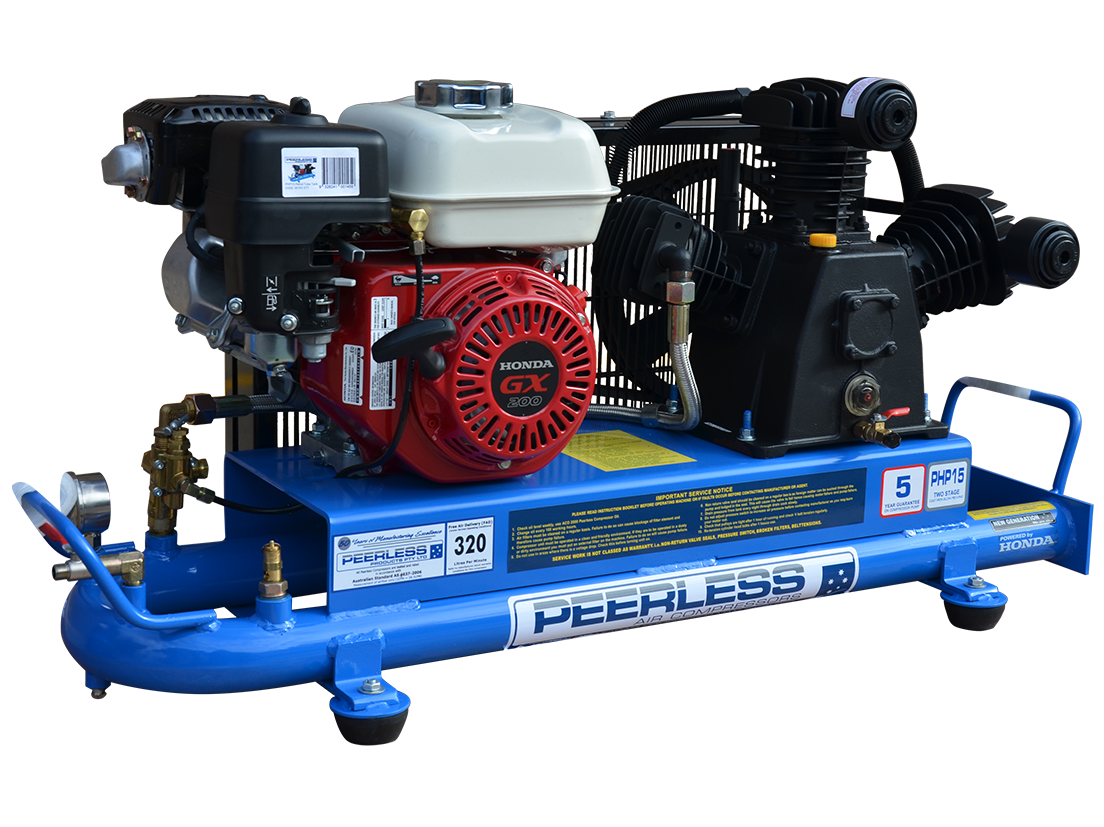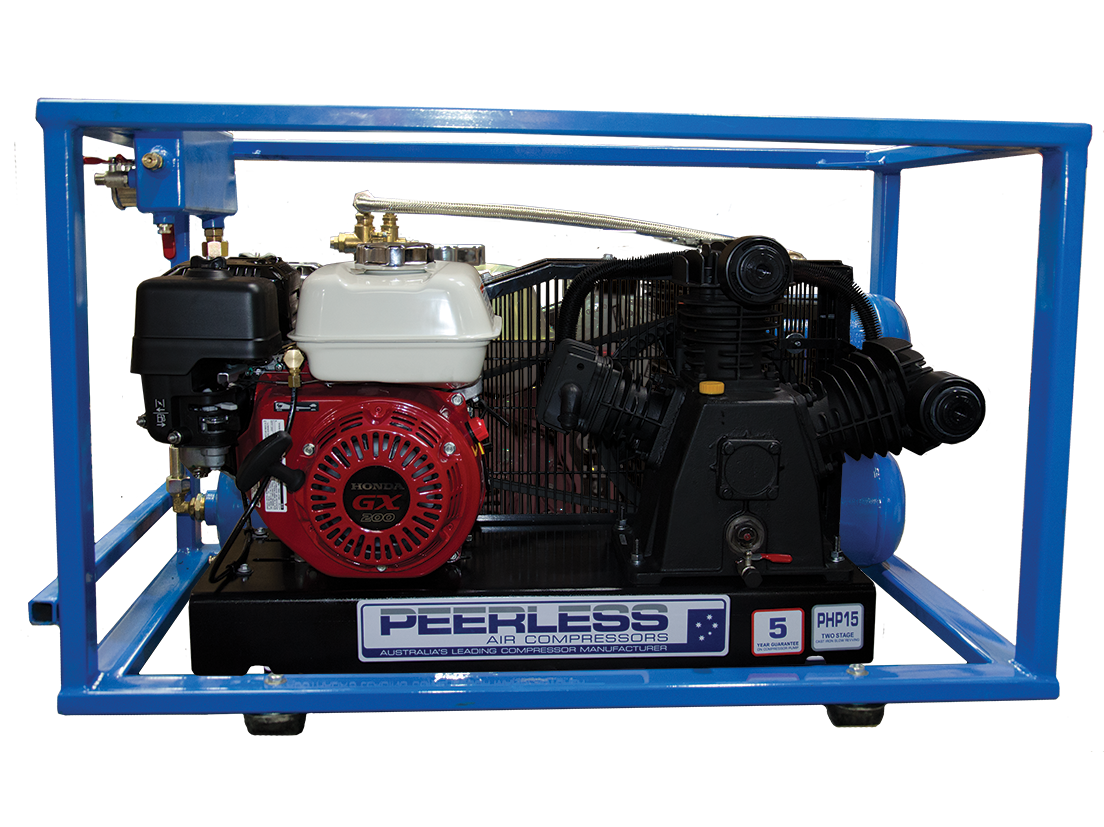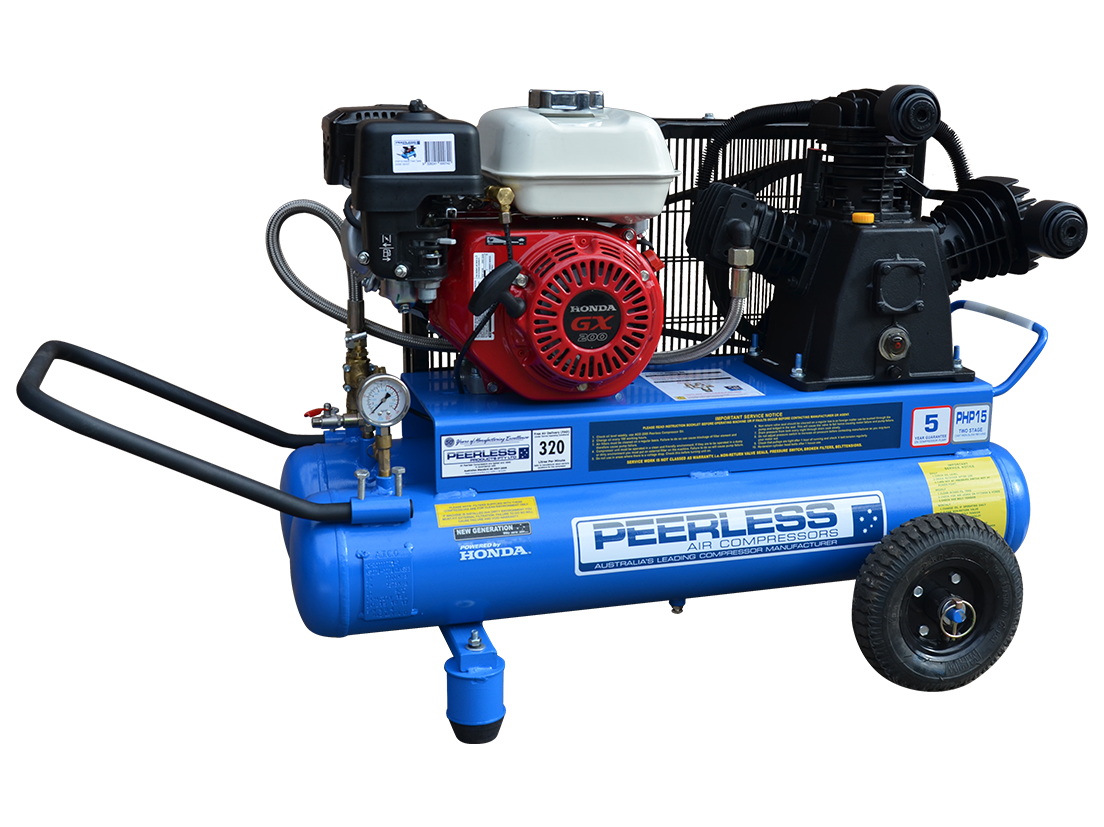 Peerless PHP15 Truckies Series
PHP15 Petrol Air Compressor: Belt Drive, Honda GX200, 320LPM - for High Pressure
Dealer price
Retail
Retail
Tax included.
Power at a Glance
Free air delivery

Litres of air per minute

300LPM @ 100PSI

Engine GX200

GX200 Honda Petrol

High Pressure

Pounds per square inch

Max 175 PSI

Warranty

Pump / Motor / Tank

5 Years / 3 Years / 10 Years
See all the specs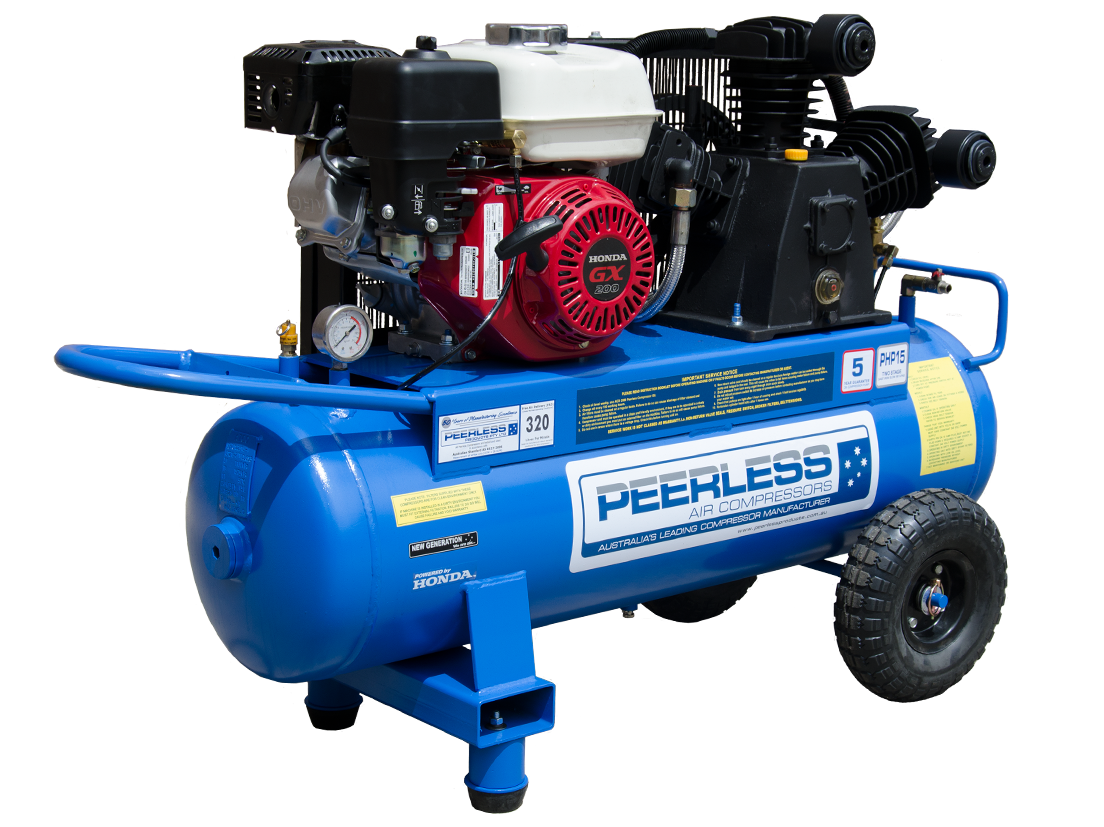 Built tough for Australian conditions.

Manufactured in Australia.
Built and assembled in Bendigo, Victoria for over 60 years.

Conrader Idler Valve.
USA made air operated idler valve. Save fuel and money.

Power on the go.
Take your compressor wherever you go with its easy and flexible design.
Product description
Technical Specifications
Spare parts
The PHP15 is a 6HP Honda engine high pressure compressor capable of running at 175PSI. These machines are fantastic for tyre inflation i.e.. truck tyres or applications where large volumes of air at high pressure is required. The advantages of a two stage compressor is that you do not lose volume of air at higher pressure. The air temperature is some 40% cooler than the standard type of air compressor therefore producing less condensation. Electric start optional extra. Please call Peerless for a quote.
Twin Tank
The twin tank model is designed for better portability and stability in the back of vehicles. It's low center of gravity ensures stability in the back of utilities and on uneven ground The handle is also removeable making it a very compact unit when needed.

Ute Mate
The Peerless "Ute Mate" Honda powered compressor is the perfect answer to your utility vehicle needs. The model features huge power all contained in a modestly sized roll cage in order to keep your work horse in top shape, no matter the conditions!
2" Tube Tank
With the performance of the 2" tube tank there is no down time on waiting for a receiver to fill, just instant pressure. If you lose pressure just take your finger off the trigger and then you're back to full pressure again in less than 2 seconds. Being such a unique design, this frees up valuable space on or in the service truck/van which can help with any space or weight issues you may currently have.
Under / Over
The under & over model is extremely popular for saving space in the back of service vehicles or trailers. The greatest advantage of these and the tube models is their quick recovery time within 6 seconds you are back to full pressure and there is not much sense in pumping up a large air receiver before you pump up your tyres.
Electric start engine does not come with battery, leads or provisions for battery.
We can manufacture to your design plus there are other standard designs for each model.
Performance of all our belt driven air compressors are to AS4637.
For over 60 years Peerless Products has been delivering and exceeding the needs of industry. Ask us about your requirements.
Code
Model
Pump Displacement (CFM)
Free Air Delivery (LPM)
Max PSI
Engine
Warranty
Pump
Warranty
Engine
Tank Capacity (L)
Pump up
time to 100PSI
Dimensions (mm)
Weight (kg)
00101
PHP15P
15 CFM
320 LPM
175
Honda
GX200
5 Year
3 Years
68L
1.25 - 1.30 Min
1250Lx450Wx820H
105kg
00107
Twin Tank
15 CFM
320 LPM
175
Honda
GX200
5 Year
3 Years
32L
0.45 - 0.50 Min.
1200Lx550Wx710H
80kg
00101-UO
Under Over
15 CFM
320 LPM
175
Honda
GX200
5 Year
3 Years
5L
-
700Lx400Wx1000H
95kg
00101-2TT
Tube Tank
15 CFM
320 LPM
175
Honda
GX200
5 Year
3 Years
5L
-
1100Lx400Wx550H
80kg
00101-UTE
Ute Mate
15 CFM
320 LPM
175
Honda
GX200
5 Years
3 Years
32L
0.55 - 1.00 Min.
570Lx1000Wx570H
116kg
00101-SF
Skid Foot
15 CFM
320 LPM
175
Honda
GX200
5 Year
3 Years
68L
1.25 - 1.30 Min.
LxWxH
kg
00101-FB
Fat Boy
15 CFM
320 LPM
175
Honda
GX200
5 Year
3 Years
110L
2.10 - 2.20 Min.
LxWxH
kg
Technical Data
Cooling
method
Pump type
Cylinders
Pump head
tension
Pump Oil capacity
Pump RPM
Outlet thread
Engine Fuel capacity
Engine oil
capacity
Air cooled
2065T
2 Stage
3
12 FT LB
16.27NM
1.375L
1236
1/4"BSP
3.1L
600ml
10W/30
Petrol air compressors
Honda world class engines are used on all Peerless petrol models. All petrol models come standard with American made idler control valves and piston for improved fuel economy and emissions.
All Honda Petrol Engines supplied on a Peerless Air Compressor are designed and approved for the Australian market, which means it can be serviced/warrantied throughout Australia with any of the approved Honda service agents.
See the range
 Reliable Protection
With up to 5 years warranty for eligible products.
 Proudly Australian
Manufactured and tested in Bendigo, Victoria.
 Unmatched quality
Compressors that are built to last with our expertise.
 Dedicated support
Easy access to our team of technical support experts.